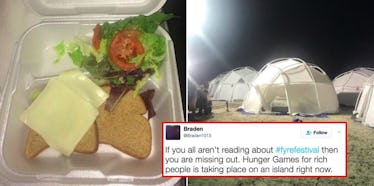 Horrifying Tweets Show Fyre Festival Left Partygoers Stranded, Hungry And Broke
Twitter
Partygoers who flocked to the Bahamas Thursday night were shocked when they realized Fyre Festival was nothing what they expected it to be.
Instead, the dilapidated campgrounds resembled scenes from "The Hunger Games" with half-built tents, stray dogs and dangerously small food rations.
Considering the fact Fyre Festival was co-organized by Ja Rule and promoted by models like Hailey Baldwin and Bella Hadid, partiers thought the weekend would be full of luxury, booze and music.
Ha, they were obviously dreaming.
In fact, people were so convinced the festival was going to be a banger that they spent up to roughly $12,000 per ticket to experience a "cultural moment created from a blend of music, art and food."
Unfortunately, their money went to waste because Fyre Festival was a disaster that left people stranded, starving and hoping for a plane ride home.
Based off tweets from the hellish night, the festival seemed like something straight out of a horror movie.
Luckily, struggling partiers documented their journey through Great Exuma and we can't look away.
Before we take a terrifying virtual trip through Fyre Festival, let's remember the fact Blink 182 dropped out one day before the fest.
OK, the fact Blink 182 was basically like, "nope," we should've known something was wrong.
More artists on the elusive lineup included acts like Major Lazer, Skepta and Disclosure.
However, before anyone hit the stage, chaos erupted as festival-goers started landing on the island and realizing the shit-show they signed up for.
The disarray began when luggage went missing upon arrival.
(At night. With no lights.)
Then, people discovered their glamorous campsites. Talk about luxury.
So cozy!
Oh, let's not forget about the gourmet dining experience at Fyre Fest.
Partiers were given plain cheese sandwiches with a side of dressing-less salad. Yum.
Here's a picture someone snapped of the kitchen. It looks sanitary enough, right?
The lockers that were provided are definitely secure.
I'd totally keep my precious belongings in one of these!
The "luxury bar" had no booze.
Where's all the alcohol?!
Wow. People sure look like they're enjoying themselves.
Smiles all around!
It's safe to say Fyre Festival was nothing like the advertisements.
More tweets from the getaway are hilariously sad.
"Our hearts go out to those victims of the #FyreFestival massacre."
"Mass chaos."
Some people think it was a social experiment.
When people tried leaving the island, even more chaos erupted.
(Shoutout to William for documenting your entire experience for Twitter.)
"My stomach is eating itself."
They even had to ration the Chex Mix. Yikes.
"People are scared."
So... Fyre Festival was a disaster and partygoers quickly turned around and demanded a refund after the event.
Since the chaos took place, festivals organizers said,
Thank you for bearing with us as we work through the growing pains that every first year event experiences. Revised itinerary information will be shared soon for the remainder of this weekend and weekend two.
LOL. Something tells me there isn't going to be a "weekend two," but we'll be watching our Twitter feeds to find out for sure.
If you went to Fyre Festival, may the odds be ever in your favor.
Citations: Fyre Festival turns from 'luxury' to 'disaster' with ticket-holders stranded in Bahamas (BBC), Fyre Festival: When a $12,000 luxury festival in a Caribbean paradise turns into chaos (CNN)