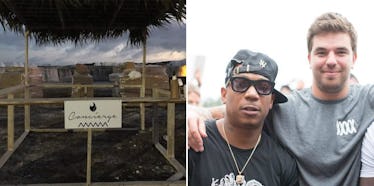 Fyre Festival Organizers May Have To Pay Attendees Millions For Disastrous Event
Twitter / Shutterstock
The Fyre Festival organizers are facing a major new lawsuit after a total disaster of an event.
The lawsuit "seeks a minimum of $100 million" for festival-goers, Variety reports.
And who could be responsible for paying up? Well, the lawsuit was filed against Ja Rule and Billy McFarland, who were the ones to organize the festival ("organize" feels like a bad word to use, considering what lack of organization actually happened).
Ja Rule has already commented on the Fyre Festival. Late last week, he said that the event was "NOT A SCAM."
Ja Rule said the total failure was "NOT MY FAULT," although he did say he's taking responsibility -- a claim he might regret in light of this gigantic lawsuit.
The lawsuit was filed in California by Mark Geragos, a celebrity lawyer who has represented Michael Jackson and Kesha.
Geragos filed the suit on Sunday on behalf of Daniel Jung, a festival-goer. Jung is seeking $5 million for fraud, negligent misrepresentation, breach of contract and breach of good faith.
So basically, for promising a glamorous weekend and providing a nightmare.
The Fyre Festival lawsuit, which was obtained by HuffPost, includes tweets to show just how bad things got at the Fyre Festival.
The lawsuit mentions everything from the mishandling of luggage to the FEMA tents and bread sandwiches to the mess it was to get off the island.
Jung purchased a ticket package and flights to the Fyre Festival costing him $2,000, according to the lawsuit.
But this is a class-action lawsuit, which means it's not just about Jung. It's about a long list of people who, too, were tricked by Fyre Festival into spending all this money just to be trapped.
The lawsuit says,
The festival's lack of adequate food, water, shelter, and medical care created a dangerous and panicked situation among attendees -- suddenly finding themselves stranded on a remote island without basic provisions -- that was closer to 'The Hunger Games' or 'Lord of the Flies' than Coachella. Festival-goers survived on bare rations, little more than bread and a slice of cheese, and tried to escape the elements in the only shelter provided by Defendants: small clusters of 'FEMA tents,' exposed on a sand bar, that were soaked and battered by wind and rain.
The lawsuit adds that the organizers "had been aware for months that their festival was dangerously under-equipped and posed a serious danger to anyone in attendance," as planners have confirmed.
The lawsuit also calls out McFarland and Ja Rule for "personally reaching out to performers and celebrities in advance of the festival" to warn them to not attend.
Geragos thinks around 150 people will be represented by the lawsuit. That's a lot of angry people to pay, should the suit go their way.
Citations: Mark Geragos Files $100 Million Suit Against Fyre Festival (Variety), Fyre Festival Organizers Hit With $100 Million Lawsuit (Huffington Post)