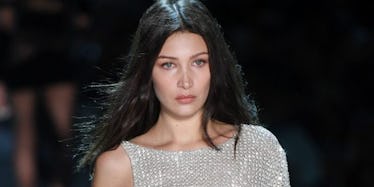 Bella Hadid Reveals In An Apology That She 'Couldn't Stand By' Fyre Festival
REX/Shutterstock
Fyre Festival will go down as a disaster of epic proportions, and Bella Hadid wants no part of the chaos.
The brainchild of Ja Rule — who, quite frankly, I haven't heard about since the seventh grade — and tech entrepreneur Billy McFarland promised to be a luxurious and decadent experience.
Considering tickets began around $1,200 (and eventually made their way up to six figures) you'd think attendees would reap luxurious benefits after shelling out some serious dough.
Instead, the Bahamas' answer to Coachella seemed to rival scenes from "Lord of the Flies."
The accommodations were severely inadequate... to say the least.
Luggage was not passed out in an orderly fashion
The insufficient portions of food for festival-goers...
...were prepared in a kitchen that looks like the worst kind of health code violation you could imagine.
Needless to say, the reality looks very different from Bella Hadid's enticing advertisement, which is exactly why the 20-year-old model took to Twitter to issue an apology for the disaster of an experience.
First, she begins by distancing herself from the festival entirely:
Even though this was not my project what so ever, nor was I informed about the production or process of the festival in any shape or form
Then, she goes on to discuss how awful the whole scenario made her feel:
I feel so sorry and badly because this is something I couldn't stand by, although of course if I would have known about the outcome, you would have all known too.
You can check out her Twitter tell-all here:
Oddly enough, Ja Rule — the one who planned this inaugural festival fail — had a similar response to Bella Hadid.
Check out his tweet below:
After addressing his safety concerns — fair enough, that was the right thing to do, after all — Ja then points fingers:
I truly apologize as this is NOT MY FAULT... but I'm taking responsibility.
While other artists took to social media to air their grievances, Kendall Jenner, who once promoted the festival alongside Hadid, forgot her shirt in her latest Instagram, writing "playing dress up," (or, you know, dress down — either or).
Citations: Bella Hadid Distances Herself From Fyre Festival Disaster in Twitter Apology: ''I Feel So Sorry'' (E! News)