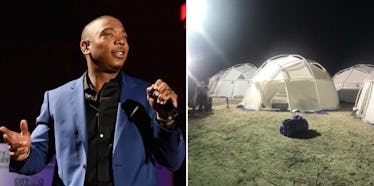 Disastrous Fyre Festival Is Under FBI Investigation, And We're Not Surprised
Getty Images/Twitter
Fyre Festival promised to be the Coachella of the Caribbean, yet the disastrous Bahamas event rivaled something out of the dystopian Hunger Games series.
Now, the masterminds behind the festival fail, hosts Ja Rule and Billy McFarland, could possibly face federal charges, according to the New York Daily News.
Despite Ja Rule's "apology" and assurance that this was "not his fault," he and his buddy are being investigated by the FBI for securities, mail, and wire fraud.
According to a source who spoke with the New York Times, both the United States attorney's office for the Southern District of New York and the FBI are involved in the investigation.
I don't know, Ja, this isn't looking so good for you.
Also, can we take a brief moment to ask: Ja Rule? Really? The last time I heard anything about the rapper, he was singing with Ashanti and I was in the seventh grade, so I'd be wary of the fact he spontaneously decided to host an event for $12,000 a pop.
Those prices were certainly preposterous, given the circumstances — misplaced luggage, inadequate meals and insufficient tents.
The event had been promoted by the likes of Kendall Jenner and Bella Hadid (who issued an apology of her own, despite not even attending the event) and scheduled performances from Blink-182 and Tyga, among other artists.
(Do we need to remind you about the $12,000 tickets to see Tyga?)
At the beginning of the month, the hosts faced a $100 million federal class-action lawsuit claiming they knew about the dangers of the festival.
"The festival's lack of adequate food, water, shelter and medical care created a dangerous and panicked situation among attendees — suddenly finding themselves stranded on a remote island without basic provisions," the lawsuit claims, according to the Daily News.
In case you needed a reminder, the inadequate amount of food that was available had been prepared in this health violation of a kitchen, so have fun with that imagery.
Another lawsuit followed, claiming the hosts were scamming buyers by promising accommodations they knew they couldn't provide.
Third time's a charm, and the money-lending company EHL Funding filed a lawsuit claiming the hosts were late on their loan payments... which equated to $3 million.
This is quite the situation, yet despite it all, model Anna Herrin told TMZ, "I got really lucky, I had a great time in the Bahamas. I got to leave the main like tent, apocalypse area."
That's good for you, Anna. We're glad you had an "awkwardly good time."
Citations: Disastrous Fyre Festival reportedly under investigation by FBI (New York Daily News)