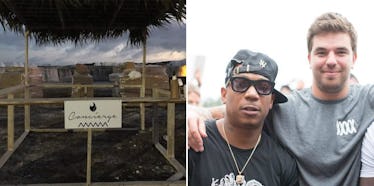 Fyre Festival Isn't Even Bothering To Pay The People Who Worked On It
Twitter / Shutterstock
As if Fyre Festival wasn't already enough of a disaster for everyone involved, employees who worked the event will not be getting paid.
Billy McFarland, the 25-year-old founder of the nightmarish festival, held a conference call with his employees last Friday and told them they would not receive immediate compensation for their work throughout the past two weeks.
In the phone call obtained by VICE, Ja Rule listened in as McFarland broke the news to his frustrated employees.
During the call, he said,
Unfortunately, we are not able to proceed with payroll immediately for the company. I understand this is not an ideal situation for everybody, and this will likely cause a lot of you to resign.
McFarland also informed everyone who worked the festival they were not being fired or laid off, which takes away workers' rights to collect unemployment benefits in various states.
After saying he "gets and understands" if employees wish to resign, he added,
That said, if you want to stick with us, we'd love to have you and we'd love to work together and hunker down and get back to a place where everything resumes to business as usual.
Um... something tells me his workers aren't going to stick around.
The employees McFarland addressed on the conference call were allegedly employed by Fyre Media, the company behind Fyre Festival. Their job was to build a talent-booking app for the event.
After hearing the news they were not being fired or laid off, many of them questioned McFarland's decision, to which he responded "If that impacts you, you can email me."
One employee asked the founder if he even had record of her employment since she was initially paid in cash. Payroll in their office allegedly came to a halt last October, resulting in cash or wire transfer compensation.
Apparently, workers at Fyre Media planned on launching their app on April 27 when chaos broke out, and many of them quit following the festival.
Fyre Festival was intended to be a luxurious getaway in the Bahamas and ended up being a complete disaster for everyone involved.
The festival allegedly promised to refund everyone who purchased tickets, and is currently facing a $100 million lawsuit.
The drama continues.