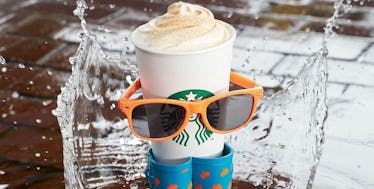 5 Easy Starbucks Halloween Costumes To Be Your Most Deliciously Basic Self
Starbucks
If there's one thing millennials cannot possibly resist, it's a treat from Starbucks. Unicorn Frapps and berry teas are all well and good, but now that fall is upon us, we've officially entered Pumpkin Spice Latte season in all of its glory. Let's face facts: Other menu options pale in comparison to the autumn favorite. In celebration of such a fantastic time of year, your Halloween costumes should get the Starbucks treatment. What better way to pay homage to such a magnificent holiday and your favorite indulgence?
Without question, the PSL is having a moment. From deodorant to hair styles, home décor and everything in between, it's all about the fall fruit right now. It might not be terribly chilly -- and there is a strong possibility you might have broken a sweat on your way to the subway -- but that is no reason not to get a cup of the fan favorite.
Look, it's September. It's time. Now that we have received the news that the world is possibly coming to an end before Halloween, we need to celebrate in full force. Since Sept. 23 is going to kickstart weeks of catastrophic events, according to a Catholic numerologist — though this is the first I'm hearing of such a title — you might as well go out on Halloween with a bang (hopefully not a literal one).
Thanks to all of these reasons, there's no question you've been convinced of the importance of your 2017 costume. Without further ado, here are the best Starbucks-inspired costumes for your party or night in binging scary movies.
First up, the Pumpkin Spice Latte.
In case you were unaware, the PSL is, in fact, real. This cool cat with his whipped cream hair and cinnamon drizzle highlights is the talk of the town. Channel his look with orange glasses and a white hairpiece. You can probably score a pair of faux Ray Bans at the costume store in town. If you're really looking to hone your DIY skills, craft a Starbucks logo out of felt or paper and stick it to your shirt the night of the party.
We can't forget about the basic witch look.
All that's required of you is actually purchasing a Starbucks drink — you already have the other necessities. Grab your favorite pair of black leggings (naturally), a comfy and oversized flannel, your worn-out Uggs, and a snug beanie to keep you toasty. Voila! There you have it: the basic look if ever there was one.
The Unicorn Frapp does deserve some kind of acknowledgement.
This Frapp — though not as monumental as the PSL — still did make quite a splash this summer. If you want to channel its blue-purple-green neon hue, tie die your hair to one-up the seasonal drink. If that's too bold of a statement for you, Lisa Frank is having a comeback, so score some PJ sets or denim jackets if you want to look like this summer's hottest item.
Don't forget about the classics.
Let's say you prefer the oldies and you're not as inclined to get a PSL. No problem-o! Grab a tan bodycon dress, a white fluffy top, and recreate the Starbucks logo to capture the frappuccino look. You might want to pair this look with leggings, depending on the length of your dress (which works out perfectly since it adds to the whole "basic" theme).
Now's your chance to get fancy.
If you want to purchase something you can reuse (though I wouldn't see why you wouldn't want to wear your frapp suit year-round) grab a graphic tee. Stores like Francesca's are selling cute shirts with logos like "You had me at Pumpkin Spice Latte." Purchase a shirt and dress it up with Halloween colors. Of course, a PSL is not required but highly recommended.
Graphic Tee, $34, Francescas
There are so many ways to show your love for the Seattle brewing company, so enjoy getting inventive and have a Happy Halloween.
Check out the entire Gen Why series and other videos on Facebook and the Bustle app across Apple TV, Roku, and Amazon Fire TV.