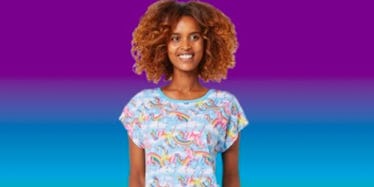 Lisa Frank Pajamas Are At Target Because We All Deserve A Magical Night's Sleep
Lisa Frank/ Target
Prepare for a wave of nostalgia to come crashing into your undying love for the '90s. A magical, mystical collaboration has gifted millennials with neon-colored unicorns and rainbow-hued tiger prints, all courtesy of the Lisa Frank pajama collection at Target. If this doesn't speak to your second-grade self, nothing will.
Not that we need an excuse to go to Target, but these whimsical blasts from the past will make our daily shopping spree all the more exciting. Let's face it: No one leaves Target with anything they came for, so why not grab something that speaks to your childhood?
The collection comes in either a T-shirt and shorts set or a nightie. Some Lisa Frank favorites include pink dolphins and rainbow tigers, but the options are endless. The jammies are also available in a wide range of sizes.
Everyone's in need of a good night's sleep, and these colorful prints will ensure that your eight hours of shut eye are filled with vibrant dreams.
Who wouldn't want to curl up under the blankets wearing these pink dolphins? They're perfect for summer.
You can (literally) kiss nightmares goodbye with a pair of these babies.
I made a beeline to my pocketbook to grab my wallet so I could snag this selection for myself. Happy Tuesday, Danielle.
Rainbows, pink unicorns, blue fabric, is there anything this PJ set is missing? Nope! It's the epitome of the brand we all know and love.
I'm sure you had a notebook that looked just like this back in elementary school.
Pretty fantastic, wouldn't you say?
Naturally, when something is so mind-blowing, people take to Twitter to express their emotions.
As @beehalter wisely said, "This is even better than the '90s because now my mom can't tell me no." On that note, I'm finishing up this article with the intent of buying some Lisa Frank PJs as my reward.
Get yours soon, '90s babies. They're selling out quickly.