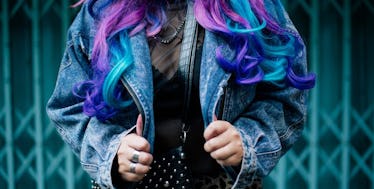 This Vintage Store Is Selling Lisa Frank Denim Jackets And We Need One This Fall
No back-to-school look was complete without a dash of neon and funky-colored animals. Lisa Frank, the brand all millennials know and love, was a staple of the '90s, but never went out of style. Fast-forward 20 years, and now Lisa Frank denim jackets are available at a forthcoming vintage store in New York City, so naturally this is a perfect way to celebrate your childhood.
Spark Pretty, which is headed to its permanent home in the East Village on Sept. 27, was described to Timeout New York as "I Want My MTV" meets '80's hair bands, crossed with the flash of '70's glam-rock," according to owners Amanda Dolan and Meagan Colby. With this telling description, it's clear Lisa Frank merchandise found the perfect home.
The jacket in question — a mix of dark and light rinse denim — comes equipped with the classic Lisa Frank rainbow logo and a cute multi-colored penguin on the on the upper portion of the front. The back features the penguin and his polar bear friend, who also sports some unusual colors of his own. The two are in an Arctic-type setting that received the rainbow treatment, like many of the brand's styles. Don't forget to roll up the sleeves to let a little pink show — it's the perfect way to complete the look.
This colorful and fun brand obviously plays into millennials' nostalgia, and it's not the first time it's made a comeback this year. Earlier this summer, Lisa Frank collaborated with Target for a line of PJ sets with bright colors and unusual prints. I might or might not be wearing my rainbow lips PJs as I write this. I couldn't pass up the opportunity to relive one of my favorite aspects of elementary school.
If you too are looking to show some Lisa Frank love, the jean jacket is fairly priced at $450. Not in New York? Shop Spark Pretty's looks online. Make Lisa Frank proud, baby!