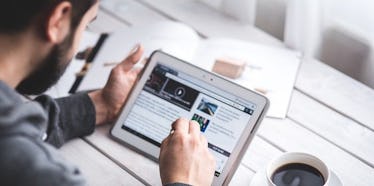 New iPad Pro Is Coming And It'll Make You Forget About That iPhone 8 You Wanted
We know you've had your heart set on the iPhone 8, but you won't want to dismiss the new iPad Pro after you hear more about it -- so think about your next Apple purchase wisely.
When you're going to make an important tech investment, knowing the basics is a necessity.
If you find yourself at that in-between stage where you need a better phone, but you're not quite ready for a new laptop, the new 10.5-inch iPad Pro — coming this fall — might be the perfect option for you.
Let's break it down.
For one, there is a decent battery life.
If you're ogling avocado art on Instagram or catching up on Orange Is The New Black, it's important to have a functional device. Hanging onto a laptop might be a bit cumbersome, but your iPhone is too dang tiny, so the iPad Pro is the in-between you'll need.
With a roughly 10-hour battery life, you're going to be busy. Bring on the #avocadoart.
The camera has awesome perks.
The iPad's new camera has an aperture upgrade from f/2.2 to f/1.8, and in fancy photography terms, that means you can take some killer selfies in low-light conditions.
Sounds good to us! Make sure you're camera-ready.
Computing power is at an all-time high.
Yes, those are some more pesky tech terms, but basically, it means the iPad Pro is way faster than what we're used to.
The A10x Fusion makes for 30 percent faster CPU speed and 40 percent faster graphics, according to BuzzFeed. Thanks to ProMotion, the feature improves anything on screen that's moving.
So if you've got a hankering to watch your exe's Instagram stories, this is all good news.
Those refresh rates are a-maz-ing.
The new iPad Pro Retina display now supports a 120Hz refresh rate, which means your videos and games will operate smoothly and quickly.
Good thing we've rounded up some good flicks to catch on Netflix.
It's easier to see.
Do you ever get tired of looking at a screen? Well, the "custom-designed antireflective coating makes the display clearer and more readable," according to Apple. Plus, the 600 nits (brightness term) and P3 color display makes the experience all the more simple. All you need now is a good book.
So before you go bananas over the iPhone 8, you might want to weigh your other options. Which device sounds like a better fit for you?