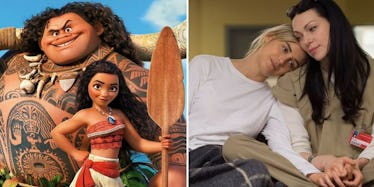 7 Shows And Movies Coming To Netflix You Need To Watch ASAP
Disney, Netflix
May is on its way out, but Netflix is bringing in a slew of new movies and TV shows to help you ring in the summer this June.
The streaming service just revealed all the new stuff that's going to be available to watch in just a couple of days, so it's time to start getting pumped and planning your upcoming binge sessions.
Along with new seasons of Netflix faves like Orange Is the New Black and The Ranch, the streaming service is adding a bunch of new shows and movies you're definitely going to want to check out this month.
Let's go over some of the big highlights so you can get ready to binge-watch after spending the day on the beach.
1. Moana
Arrival date: June 20
Who doesn't love a good Disney musical? And honestly, Moana is one of the best musicals Disney has ever put out.
The Oscar-nominated story about a young woman who longs for adventure on the open seas is a hit with children and adults alike, and it's filled with catchy, inventive songs crafted by the man behind Hamilton, Lin-Manuel Miranda.
2. Orange Is the New Black: Season 5
Arrival date: June 9
One of Netflix's longest-running original series, and one of its most binge-able, is back for its fifth season, and it looks like its going to be one of the most intense ones yet.
The previous season of Orange Is the New Black ended with the death of a main character and a prisoner holding a gun to the head of a guard. The trailer for the new season shows a total shift in power at Litchfield with the prisoners gaining even more control.
3. Oh, Hello On Broadway
Arrival date: June 13
Nick Kroll and John Mulaney were already hugely beloved in the comedy community for years, but this year really shot them to the top when they brought their lovably curmudgeonly characters of Gil Faizon and George St. Geegland to Broadway. Now, anyone who wasn't able to secure a ticket on Broadway can see the hilarious show themselves on Netflix!
4. GLOW
Arrival date: June 23
Meet your new Netflix obsession: an '80s wrestling dramedy called GLOW.
The new series comes from Jenji Kohan of Orange Is the New Black and Weeds fame, and will center on Alison Brie as Ruth Wilder, a struggling actress who finds the role of a lifetime as a part of the Gorgeous Ladies Of Wrestling. You might also recognize Marc Maron, singer Kate Nash, and Nurse Jackie's Betty Gilpin.
5. Trolls
Arrival date: June 7
If Moana wasn't enough to satisfy your animated musical-loving heart, Netflix has you covered with Trolls -- the Justin Timberlake and Anna Kendrick-starring Dreamworks comedy that brought you the song that's been stuck in your head for the last year: "Can't Stop the Feeling!"
6. Okja
Arrival date: June 28
One of the stranger, but most promising looking new movies coming to Netflix this month is Okja, the story of a young girl who befriends a giant beast that a powerful food company wants to capture.
It comes from the team behind 2013's breakout thriller Snowpiercer, and has an all-star cast including Tilda Swinton, Jake Gyllenhaal, and Paul Dano, so it's something that you're definitely going to want to check out.
7. Scandal: Season 6
Arrival date: June 17
With the announcement that next season of Scandal will be its last, there's no better time than now to get caught up on all the drama than now. Kerry Washington's political drama just wrapped its wild sixth season a couple weeks ago, and now its all going to be on Netflix. Be sure you get caught up before the final season starts in September!