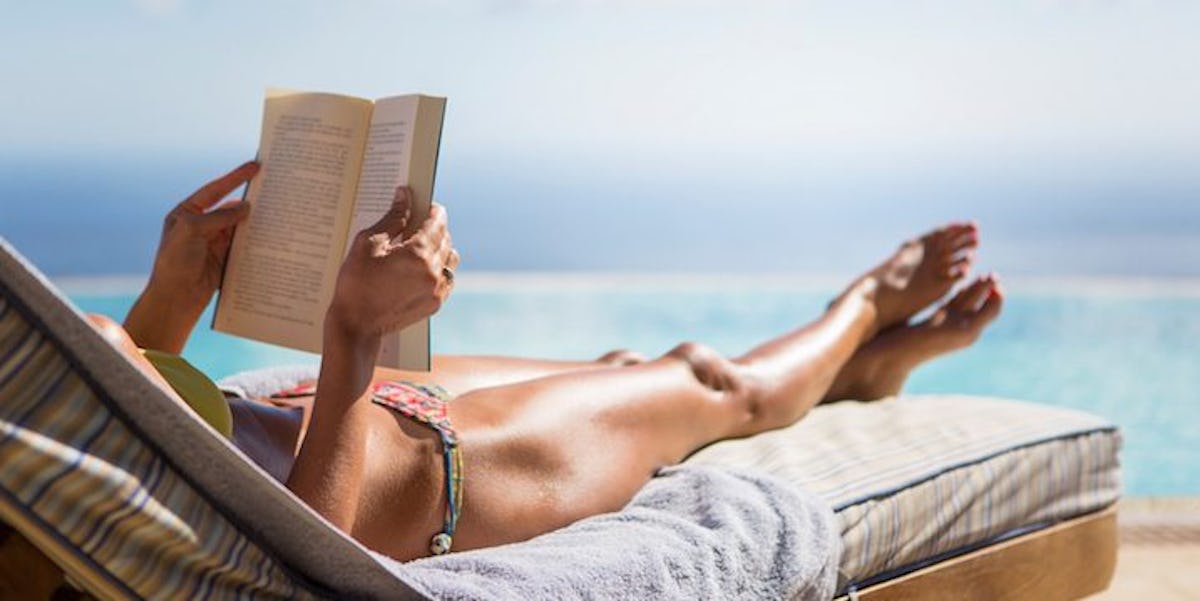 7 Books Published This Year That Are Perfect For Your Summer Reading Obsession
There's nothing quite like taking that much-needed vacation... until you have to pack for it.
It's always a struggle deciding what to bring while you cleverly adjust the belongings in your suitcase so you don't exceed the airline's weight limit.
The struggle is real, especially now that we're heading into the warmer months and vacation season is upon us.
But make no mistake, if there's one thing you need to put in your checked bag or carryon tote, it's a few good books. A fun story is as necessary as your toiletry bag.
To accompany your stay by a tropical beach, here are seven 2017 releases you need to grab that go hand-in-hand with a piña colada and a new bikini.
1. For the romantic: "Public Relations" by Katie Heaney and Arianna Rebolini
Work and play make for an... interesting combination.
Rose Reed is an up-and-coming star in the PR industry, but she's struggling during one meeting with the British musician, Archie Fox. To get him back in the spotlight, she encourages a faux romance with an indie star.
But what happens when Rose's feelings for Archie are anything but fake?
Pub date: May 9, 2017
2. For the mystery lover: "The Lying Game" by Ruth Ware
The Lying Game, $18, Amazon 
Ware has become a household name in psychological suspense, and her third release is highly anticipated.
In what's sure to be her next summer hit, Ware's protagonist, Kate, walks her dog by a river in England when he discovers a human bone. After the discovery, she texts her ex-best friends, with a simple request, "I need you."
The girls were inseparable in school and played what they called "the lying game," which ultimately led to the death of their school's art teacher (Kate's father) and the girls' expulsion.
How will everything come together?
Pub date: July 25, 2017
The Sunshine Sisters, $17, Amazon
Green and her entire repertoire are synonymous with "beach read."
In the latest from this women's fiction fan-favorite, a narcissistic mother of three, Ronni, flees London for Tinsel Town to become an A-list Hollywood star.
Her three daughters are left to fend for themselves, but what will happen when Ronni gets the girls together to fulfill her final wishes?
Pub date: June 6, 2017
4. For the carefree college student: "The Idiot" by Elif Batuman
The Idiot, $14, Amazon 
Selin, the daughter of Turkish immigrants, begins her freshman year at Harvard University in 1995.
She begins to correspond with a Hungarian student and follows him abroad for the summer, where she learns a lot about life, love and herself.
Pub date: March 14, 2017
5. For the history buff: "House Of Names" by Colm Tóibín
House of Names, $17, Amazon 
The "Brooklyn" author's latest is a retelling of the vengeful Clytemnestra who plans to kill her husband, King Agamemnon, when he returns from Troy.
Nothing like a little old-school drama to spice up your time by the pool.
Pub date: May 9, 2017
I'd Die For You And Other Lost Stories, $18, Amazon 
Get your "Great Gatsby" fix with a round of unpublished stories from the famed writer we all fell in love with in high school.
Pub date: April 25, 2017
7. For the young at heart: "Be True To Me" by Adele Griffin
Be True To Me, $12, Amazon 
Head back to Fire Island, 1976 for the YA author's love triangle that keeps the reader as entertained as the story is scandalous.
Pub date: June 13, 2017