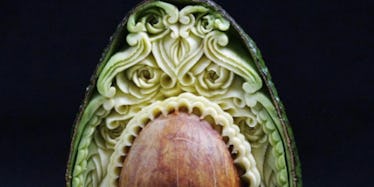 Dreamy Avocado Art Exists And It's So Beautiful You'll Never Want To Eat It
Daniel Barresi
Avocados are beautiful in any form, whether they're spread on toast (we're not too picky), transformed into a rose, or served as an eggocado during brunch.
One artist, however, is taking our favorite fruit to the next level. A quick peek at his gorgeous avocado art will leave you so impressed, you won't be able to eat your afternoon snack.
Daniel Barresi is an award-winning carving artist from Australia, so if you ever find yourself Down Under, let the king of the knife carve his way into your heart with his creations, like this baby below.
Have you ever seen a fruit so majestic? I was pretty impressed with my avocado toast from Le Pain Quotidien, but clearly, I was missing out on the creativity. This completely blew my avocado pick-me-up right out of the water.
Does this ever happen after you're done prepping lunch? No? Me either, my friend — no hard feelings.
All of this delightful #avocadoart is part of an avocado art show, according to Cosmopolitan, and it's exactly what we need in our museums, if you ask me. (I hope curators are taking notes.)
Naturally, avocados -- the basis for our beloved guacamole, aka the sole reason we'll shell out $2 for a fruit -- have gotten the attention of the internet.
It's not uncommon for other #avocadoart to pop up on social media.
Have a look at the green goodness and feel inspired.
Apparently, Daniel Barresi created his beautiful avocado art for The Avocado Show in Amsterdam. Stop by their shop if love avocados as much as the rest of us!
Reddit users are losing their minds over this phenomenon.
We can't say we blame these people for going bananas over the #avocadoart. The high-protein fruit that abounds with benefits — high protein, a healthy substitute for butter, hair and skin perks — is not only good for us, but good for us to look at, too.
Elite Daily has reached out to Baressi for comment. He has granted access for photo use.