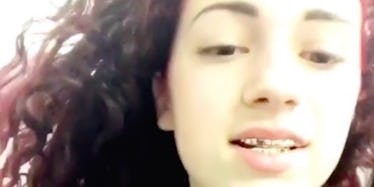 'Cash Me Outside' Girl Posts Video Showing Off Giant Hickey On Valentine's Day
Instagram
Danielle Bregoli, the infamous "Dr. Phil" guest who coined the phrase, "Cash me outside how bow dah?" has been keeping herself pretty busy lately.
The "Cash Me Outside" girl recently made her second appearance on national television, where she revealed she hasn't changed her ways and delivered a few savage disses to Dr. Phil.
Plus, the "Cash Me Outside" girl has also been making headlines for punching people on airplanes, ripping off the Champion logo and flashing her shiny new grills in music videos.
If you happen to follow this 13-year-old's savage Instagram account, you probably know the "Cash Me Outside" girl has been spending her free time rapping, twerking, adding incidents to her extensive police record and speaking some sort of language that resembles English.
Not to mention, she's been celebrating Valentine's Day in an... unsurprising fashion.
Danielle Bregoli shared a few photos from her Valentine's Day on Instagram yesterday, and it looks like this troubled teen got hit in the neck with one of Cupid's arrows.
Yep, while you and your fellow dateless friends spent the night drinking away your #foreversingle V-Day sorrows, the "Cash Me Outside" girl was posting videos that showed off her giant hickey on Instagram.
Cash me outside with a big ass hickey on my neck, how bow dah?
I mean seriously, just look at this thing, it's huge!
But that's not all. It seems Bregoli had a pretty action-packed Valentine's Day because she shared another interesting photo that detailed some of the events from the day.
Apparently, she started off Valentine's Day with an exorcism because that's totally what any normal person would do, right?
Next, Bregoli took a trip to the local tattoo shop to deal with a nasty infection in one of her piercings.
No Valentine's Day would be complete without exchanging some heartfelt gifts, so Bregoli hit up CVS to look for valentines -- while simultaneously twerking to Shawn Mendes in the greeting card aisle, of course.
Then she finished off the day by filling out a Valentine's Day card for someone special.
I don't know about you, but I have a pretty good feeling she wrote something along the lines of "Be My Valentine, How Bow Dah?"
Citations: 'Cash Me Outside' Girl Is Back On Instagram Showing Off Her Hickeys And Tongue Ring (Dude Comedy)