Everything I've Learned About Love (So Far)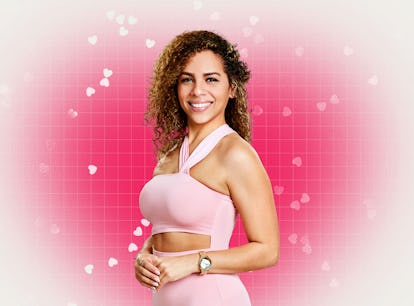 Lydia Gonzalez Has No Regrets From Love Is Blind
"I was trying to fall in love and find the right guy, and I did."
Spoiler alert: This post contains spoilers from Love Is Blind Season 5 finale and reunion. Lydia Gonzalez has seen the online discourse about herself. The Love Is Blind Season 5 star knows that viewers are critical of her — and for the most part, she understands why. "We're on a show, and they're trying to portray the most entertaining outcome," Gonzalez tells Elite Daily. But she insists there's a lot more to the story than what the edit showed.
The 32-year-old was a central character in the drama of the Houston-based season. In Episode 3, it was revealed that she had a history with fellow cast member Uche Okoroha — they had recently dated, and no one else in the pods knew. This revelation led to the demise of Okoroha's budding relationship with Aaliyah Cosby, as well as the end of Gonzalez and Cosby's close friendship.
Gonzalez received backlash from fans for how she handled the situation. At the reunion, host Nick Lachey revealed that she and Okoroha were told by producers not to divulge their past relationship, a fact that adds nuance to the narrative that Gonzalez hid the secret from her friend. "I didn't want to hurt her, and it hurt me seeing that episode," Gonzalez says. "Even my ex, I didn't have ill intent towards him."
Despite how things played out, Gonzalez wouldn't do anything differently — primarily because she walked away married to Milton Johnson, making them the season's singular success story. Here, she tells Elite Daily where she currently stands with Okoroha and Cosby, how she navigates online hate, and what people might be surprised to know about her marriage.
Elite Daily: There have been a lot of different narratives and theories out there about why you went on the show. Can you clarify for us, straight from you, how you ended up on Love Is Blind this season?
Lydia Gonzalez: I applied in August 2021, even before it was announced that the season would be in Houston. Maybe that's how the casting manager found me on Instagram [later on]. I've always been a fan of the show, so I was like, "Love is Blind? Yes, I'm in. Have you seen my dating history?"
ED: We learned at the reunion that you and Uche were told by producers not to tell your cast members that you knew each other. How do you think that impacted your experience?
LG: Looking back, it did impact me negatively because that's what viewers are complaining about and why they're forming opinions of me. But I understand how sharing our history was going to impact the experiment. I was friends with everybody, and I tried to have a positive attitude throughout the lounge and pods. If I would've been like, "Hey, I dated this person. By the way, he's kind of like... he's some way," people were probably not going to date him.
At the end of the day, it is what it is. It's unfortunate that not everybody got their own love story, but I can only control myself. I can only say what my experience was, and if things had played out differently, maybe I wouldn't have gotten married. And that was my whole end goal.
I am not that person. If you want to believe that, that's on you.
ED: Where do you stand with Uche now?
LG: I stand really far away from him. The further, the better. He can go ahead and spread whatever lies that he wants, but I really don't care about anything he has to say. I just have one request for him: Keep my name out of your mouth and close that chapter because I closed it so long ago. It's a little pitiful. You're not the best, just let it go. Dude, you're obsessed with my relationship. Get away.
ED: What about Aaliyah? What's your relationship been like since filming ended?
LG: We have had no interactions since we filmed the reunion, and I think it's going to stay that way because there's a lot of negative connotation to our friendship. You can see throughout the show how she developed conclusions about me and spoke about me in a way that wasn't nice. That made me think, "OK, she didn't give me the grace or the opportunity to really explain myself."
However, I have the utmost respect for who she is as a person, and I'm always going to stick with the nice memories that I have of our friendship. It's just unfortunate. She's a really passionate person as well, and I could have seen it being an amazing friendship, but it was too tainted and poisoned by my past.
ED: You've received a lot of backlash for the Aaliyah and Uche situation. How have you dealt with online hate?
LG: My husband has been my rock. He will hug me really tight and tell me everything's going to be fine. We know our love story, and nothing can poison that or get in the way of it. Our marriage is stronger than ever, and we have so much love and respect for each other.
I also have a really great support system: my family, my friends, and his family, who are also my family now. Sometimes I have to give myself pep talks and say, "You know who you are. You are an amazing woman, and you don't need anybody to tell you who you are. You cannot allow anybody to have that power."
I am not that person. If you want to believe that, that's on you. I'm happy, and that's all that matters.
ED: Speaking of you and Milton, what's something about your relationship that people might be surprised to hear based on what was shown?
LG: We are really playful with each other. We're like kids around the house. One of the things I love to do is go to the kitchen when he's showering, grab a cup of ice-cold water, and throw it at him. That's how we are. We're there for each other in every single aspect, and we also make it fun.
ED: You mentioned you're in a great place with Milton's family now. From what we saw, they were critical of your engagement at first. How did you turn those relationships around?
LG: That was an edited portion of hours of conversation. At first, they were questioning, "What is this?" and they had every right to be. Of course, they were going to be a little apprehensive, and I don't really judge them for that at all.
I remember on that first day, my now-mother-in-law said, "We are your family, and whatever you need, you have." So I don't really think there was a switch. It was more that they needed information, and I gave it to them. And now they're like, "Oh wait, we got so lucky. We've got a good one." I love them profoundly, they're my family.
ED: Fans of this show love to gossip. What's the wildest rumor you've heard about yourself that totally shocked you?
LD: All of them, because they're so far from the truth. People need to realize that we are human beings and we have feelings. Stacy's my best friend from the show — a gorgeous woman inside and out — and she doesn't deserve the hate she's getting. I don't deserve it either.
One wild conspiracy theory is people saying that I befriended Aaliyah on purpose to ruin her relationship. What? How? We have been friends since day one when we met at the airport. We clicked instantly even before the cameras were around. I didn't know who Uche was going to choose when I learned he was there.
I promised myself that I'd stay true to who I am, and I have a clear conscience because I didn't have any ill intentions. I was trying to fall in love and find the right guy, and I did. My biggest reward was getting married to the man of my dreams.
This interview has been condensed and edited for clarity.