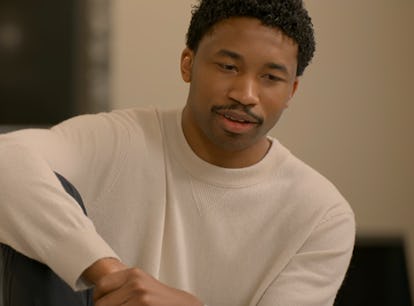 Milton Clarifies Why His Family Was Critical Of His LIB Engagement
Those scenes were so tense.
Netflix
Spoiler alert: This post contains spoilers from the first eight episodes of Love Is Blind Season 5.
The point when the Love Is Blind experiment gets really real is when families finally get involved. In past seasons, meeting the family has been a make-it-or-break-it moment for the engaged couples, and it was especially tense for Milton and Lydia on Love Is Blind Season 5. After a rough interrogation by his mom and sister, Milton tells Elite Daily that he wasn't surprised by how intense his family got.
In the wake of all the drama in the pods this season, Milton and Lydia's engagement definitely took fans by surprise... and it was also a shock for Milton's family. When he introduced Lydia to his family, his mom was quick to ask the hard questions. And his sister Jessica went so far as to call the engagement "phony," mentioning that she had never heard her brother talk about wanting to get married before.
The moment may have been fraught, but his family's reactions didn't catch Milton off-guard.
"I think they were just being a little bit protecting," Milton says. "Like any big sister, she wanted to look out for her little big brother. My sister wanted to make sure that I fully understood what I was doing. She wanted to go ahead and validate and verify things for herself, and I love my sister for that."
Milton's family wasn't the biggest hurdle in his engagement to Lydia, though. Their relationship was seriously rocked when Uche accused Lydia of shady, invasive actions during their past relationship together.
While Lydia passionately fought back against her ex, Milton seemed totally unfazed by any of Uche's claims. Milton says that he thinks it's a good thing he and Lydia have such different ways of dealing with conflict.
"We realized that our personalities were so different at times, just the way we react to nuances or uncomfortable situations," Milton says. "If I'm dealing with something difficult, I put my head in my shell, think logistically, and I trust my heart to make those decisions. I feel like Lydia wears her heart on her sleeve a little bit, and I think we really complement each other with that. Because when she needs me the most, I can be the calm in the storm."