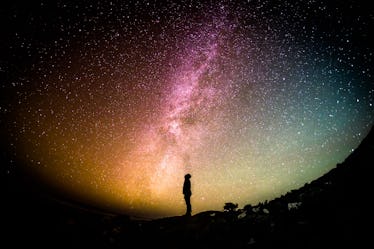 Your January 2018 Fashion Horoscope Reveals What To Wear This Month
Photo by Greg Rakozy on Unsplash
I'm not sure if I've ever been more excited for a new year, but then again, 2017 felt like an alternate universe with a derivative plot of a low-brow apocalyptic novel. But you survived, and I have a big, fat, juicy reward for you: your January 2018 horoscope for style. A fresh year is full of possibility ripe for squandering or squeezing out every last sartorial drop — the choice is yours and yours alone.
Honestly, at this point in my life, knowing that I will keep on my bullshit and decide to like myself anyway is one of the most empowering things I can think of right now. Besides, you know, maxing out my 401k and not looking in the YouTube comment sections. This January, we also have a Super Blue Blood Moon to look forward to. Which is actually a real thing, one that happens "every once in a blue moon" haha, zing.
So buckle your seat belt and get ready to fly into the new year like the soaring eagle yearning to break free from the chains of your heart, and remember: It's never too late to know yourself, find your style, or adopt a beauty routine that makes you feel like one hundred dollars.
Aries
Aries, you beautiful galloping dreamboats — how is your brain? This month, positivity is key for you to set the tone for the year and stop being ruled by fear or indecision. This year, it's not about New Year's resolutions — it's about trusting yourself.
Beauty-wise, consider a detox to jump-start your foray into higher-level thinking and acceptance so that you can see your path clearly without distraction from noise. A detoxifying deodorant cleanse could be just the ticket, or a charcoal face mask.
Origins Clear Improvement Active Charcoal Mask To Clear Pores, $27, origins.com
Bonus: jump out at your partner wearing this Origins mask to scare the absolute sh*t out of them, and see how much they really love you! So fun!
Taurus
Taurus, will I ever be able think of you without thinking of the Toros stolen cheer from Bring It On?
Probably not, because my reality is forever stuck on loop in the early 2000s! My brain is a prison.
This month, consider some statement Western-style boots paired with basics for low-maintenance style that will look like you tried waaaaaay harder than you actually did.
Urban Outfitters Tary Cowboy Boots, $79, urbanoutfitters.com
I love cowboy and chelsea boots for everyday, and thigh-high boots for going out.
Gemini
Switch it up this month, Gemini. Leotards as shirts are one of my go-to party looks, because they stay in place even when you fall off people's decks or out of a car door because you saw a Thai food restaurant and got excited.
There is no one in this beautiful world that can stop you from wearing this velvet bathing suit as a leotard:
Bathing Beauty One-Piece Swimsuit in Royal Velvet, $89, ModCloth
Virgo
Virgo is a cool word because if you say it really loud and fast in your apartment, your neighbor might scream at you to shut up, please.
The holidays may have kept you in an artistic rut, but this year will be full of new creative juicy projects that will challenge and excite you. Fashionwise, I'm visualizing peasant tops because they're bohemian in a non-committal way and some FRIGGIN SIQQ FAUX-LEATHER JACKETS OR PANTS OR BOOTS THAT COULD KILL SOMEONE.
Embroidered Penny Peasant Top, $70, Madewell
Bonus points if you get ready/socialize listening to doom metal.
Cancer
First of all, STAY AWAY FROM PISCES, OKAY? I'm looking at you, Selena Gomez. (Note: I have no problem with Pisces, but the pairing of these two signs can often be tumultuous).
Cancer, your giving nature can result in your own needs taking the backseat. This year, start strong with jewelry and items that remind you to put your needs first so you don't burn out and can maintain your boundaries.
I love this little number:
Cancer Necklace, $36, Etsy
Leo
Mastering your emotions is not the same as ignoring them, sweet Leo. Self-love lies in being vulnerable with yourself, and with trusted others.
Exercise those muscles with trying new things. Namely, accessories. Ascot bandanas, beaded purses, and belts can make an old wardrobe feel fresh, and keep you from retreating to your old standbys.
Leith Wide Velvet Belt, $14, Nordstrom
Libra
Libra, you're no stranger to being a fashion icon or advice guru to all your friends, and that won't change with the new year.
But setting trends should always come secondary to what you love. So don't worry about staying true to whatever is trending on IG. Instead, rock your fandoms and interest without fear — after all, thats what makes you such a inspiration to everyone around you.
Harry Potter Exceptionally Ordinary Graphic Hoodie, $20, Target
Scorpio
I love your intensity, Scorpio. Don't ever change.
This month, go big or go home with these super flared denim jeans:
Denim Super Flare, $78, Free People
Bell-bottoms are slowly making a comeback, and I'm here for it mind, body, and withered soul. Pair these bad boys with knotted tees or ruffled sweaters and I guarantee I will stare at you in public and daydream about your perfect life.
Sagittarius
New Years means sequins, glitter, and the idealization of circumstances and opportunities. Especially for you, Sagittarius.
My advice? Instead of day dreams, consider the age-old adage of dress for success. Are you looking to improve your health? Wear athletic clothing that makes it easier to work the gym into your routine. Stuck in a career rut? Update your professional look. Want to strike up a better balance between work and personal life? One word, my friend: versatility.
I love these pants, that work double-duty as comfy-cozies and work appropriate.
It's fine to daydream. It's healthy, even. But consider your fashion choices accordingly. Every baby step counts!
Capricorn
Happy birthday, Capricorn! Just about every meaningful friendship I have is with a Capricorn, so I'm sending an abundance of love and joy your way. You are so, so loved. Anyways, you know that hair cut/color you've been debating for months?
Do it.
There is no better time than the present. New hair will not make you any more worthy of love, or suddenly wiser, but it will help the quiet and steady revolution of learning not to fear what you want.
For hair maintenance, consider hairstylist Kristin Ess's affordable yet bougie line, available at Target. Her Instagram account is also v good and ~inspirational~.
Kristin Ess Reconstructive Moisture Mask + Leave-In Conditioner Set, $10, Target
Aquarius
Dear Aquarius, Don't be surprised if people and projects from your past make a resurgence this month, be it for good or bad. While you can't control others or circumstance, you can make a difference in your own day-to-day.
That's right. It's time to refresh your intimates! New underwear, socks, bras, and underthings will help you keep moving forward through the deepest mires life has to offer.
I love this really soft set:
Calvin Klein Carousel Bikinis, $33, Bloomingdales
So rock some new chonies this January, and let your butt get the party started.
Pisces
Precious Pisces, you are a beacon of light to every slightly weird person on this earth, and you bear it with stoic grace. This month, consider throwing it back with some retro-styled tops and sleek curls ala Grease so you can flip the switch to 'threatening' with relative ease.
The Good Bowl Days Button-Up Top, $55, ModCloth
PS: The pins on the collar are the ULTIMATE TOUCH.
Happy New Years, babies. May your mascara never clump and your enemies deal with subpar return policies.