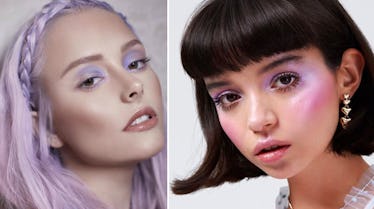 Move Over Millennial Pink: Lavender Will Be The Hottest Color Of 2018
By now, I'm sure you've read that Pantone has dubbed Utra Violet as the color that will dominate next year — but I beg to differ. Based on what's been happening on recent runways and within street style, I predict its lighter sister purple, lavender, will be the biggest 2018 color trend. Move over millennial pink — a new, more royal hue is here to rule. I totally get it if you're asking yourself, What does she know, isn't Pantone the authority on color? Technically yes, but hear me out.
If you troll social media for beauty trends, then you're probably already aware that lavender has taken over the internet. It seems that a new photo of nail art eyeshadow or eyeliner in a lilac hue is uploaded on the daily, and celebrities with the likes of Selena Gomez and Solange have been taking the color to new heights by championing it on the red carpet and beyond.
For me, this is an especially delightful trend because it reminds me of the years just before I began wearing makeup. My sister is two years older than I am and entered high school in 2003, when purple eyeshadow was having a MAJOR moment. I remember my sister smearing on the shadow nearly to her eyebrows — which I thought looked ridiculous at the time — on the daily. I gave her so much flack for the extreme look but she disregarded my opinion, as older sisters do, and wore it proudly. Now, I'm sure she was onto something.
Beauty brands clearly understand the power of purple, too; some of the year's biggest product drops have included or even centered on the hue.
After releasing Glitter Pop Peel-Off Eyeliner ($20; toofaced.com) in a gorgeous lavender hue, Too Faced has been relentlessly teasing its upcoming Unicorn Collection, which includes a healthy dose of lilac-tinged products.
Milk Makeup's Supernova Luminizer ($30; sephora.com), which has seriously lavender undertones, is taking over the highlighter world.
Fenty Beauty is set to include a periwinkle shade within its Mattemoiselle lipstick collection, which drops the day after Christmas.
Fashion-wise, lavender absolutely ruled the spring 2018 runways. From Valentino and Michael Kors to Erdem, Max Mara, and Tom Ford, the biggest brands around saturated their collections with the floral hue. It wasn't restricted to romantic floral dresses or wispy tulle garments, either; it took shape in the form of metallic lilac bomber jackets and purple suede co-ords, too.
Considering fast fashion retailers like Zara, Urban Outfitters, ASOS, and Topshop all base their seasonal collections off of what was popular during fashion week, I can guarantee without a doubt that their stores will be filled to the brim with purple garments come early spring.
A healthy dose of fashion's coolest street style stars and bloggers, who are known for wearing a trend before it's even a thing, have also recently stepped out in the color. Industry insiders and social media fans alike look to them for cues on what to add to their wardrobe next, so the hunt for all things purple has probably already started among them. If you follow fashion blogs like it's your job, maybe you've added such pieces to your closet, too.
I must admit that the floral color isn't something I've really incorporated into my wardrobe, despite the fact that visiting the lavender fields that paint the south of France purple is high on my bucket list. But seeing as it's unquestionably set to be to 2018 what millennial pink was to 2017, I'm resolving to make that change for the sake of my style cred. (And because I really do think it's the most perfect of pastel hues.) How's that for productive purple prose?