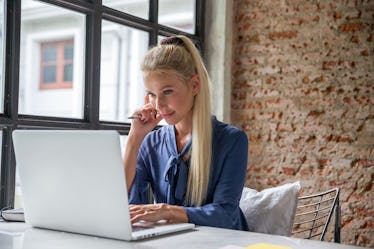 Your Career Horoscope For This Month Is Here & It's Time To Get Busy After A Lazy Summer
If you're currently beating yourself up for failing to follow through with your hardworking plans for the summer, you're not alone. Sure, you can tell yourself that you're going to spend the liveliest season of all updating your resumé, redesigning your website, attending career fairs, and working overtime. However, once you realize all the fun events that summer has in store, it's ridiculously easy to get sidetracked. If you're shamefully looking back on your decision to choose play over work, don't be too hard on yourself, because your August 2018 career horoscope will give you the chance to start all over.
I mean, let's be real here: This summer has been anything but easy. With six different planetary retrogrades slowing the momentum down and eclipse season flooding our world with confusion, it's clear to me that this summer has been more about emotional survival than making major career moves. Please pat yourself on the back for getting through it. Even if it feels like you've been a lazy crybaby all summer, you were probably healing in ways you don't even realize yet.
Luckily, August is here to replenish your attitude and motivate you to go after your dreams. After Mercury retrograde ends on August 19, Mars retrograde ends on August 27, and the sun enters analytical, hardworking, and organized Virgo on August 23, you'll become capable of so much more.
Aries
When the retrograde of Mars, your ruling planet, finally comes to an end, you'll feel all your energy refocus and settle. You'll begin thinking more clearly and going after your goals more directly. It just so happens that Mars will be in your 10th house of career at the same time that the sun will be in your sixth house of productivity. Time to get busy and get serious, Aries.
Taurus
You'll feel your career path swirling in poetic and positive vibes. With the sun in your fifth house of art and pleasure and Venus, planet of friendship and money, in your sixth house of work, you'll feel motivated to infuse your daily routine with creativity. It's not just about getting things done, Taurus. It's about finding meaning in the things that you're doing.
Gemini
With Jupiter, planet of luck, expansion, and wisdom, in your sixth house of work and productivity, you'll be able to get a lot more done than you think you can. There are fortunate vibrations on your side, helping you go the extra mile. Once Mercury, your ruling planet, finally ends its frustrating retrograde, you'll find yourself becoming even more efficient and focused on specific goals.
Cancer
While you might not find yourself as concerned with lofty career plans, you're most certainly in the mood to make more money. When Mercury goes direct in your second house of finance, you'll feel motivated to work harder for bigger pay days, negotiate lucrative deals, and allocate your funds in an efficient way. If you take advantage of this energy, your bank account will thank you.
Leo
With the sun in your second house of finance, your whole focus is centered on how much money you want and how you're going to start making it. When Mars goes direct in your sixth house of work and productivity, you'll find yourself feeling ridiculously energized to get as much work done as you can. Clock in more hours, ask for that pay raise, and apply for more jobs, Leo.
Virgo
You're a natural hard-worker, and when your eye is on a career goal, you take steady steps to make it happen. With the sun in your first house of the self, you'll feel fully engaged with your talents and skills, allowing you to refurbish your reputation and prove your worth. This is a powerful time to polish off your resumé, showcase your progress to a superior, and apply to jobs.
Libra
As much as you plan for a flourishing career, you might not be so concerned about it this month. With the sun in your 12th house of spirituality, you're more focused on finding inner-peace and contemplating your life. Contemplate your career rather than feel pressured to make moves. However, career luck is still floating your way with Venus, the love planet, in your first house of the self.
Scorpio
When Mercury goes direct in your 10th house of career, your brain will be fully charged, fully focused, and fully committed to realizing your dreams in the workplace. There's no better time to use that noggin in order to do something majorly productive in your career. You'll become more organized, charismatic, efficient, and intelligent. Your colleagues will certainly notice.
Sagittarius
Your entire world is centered on achieving your goals this month. With the sun in your 10th house of career, every move, thought, feeling, and care that you have is with your dreams in mind. There is nothing you can't accomplish under such potent energy. There is no better time to take on a big project, prove your worth in a major way, or level up in your career like you never have before.
Capricorn
When Mars goes direct in your first house of the self, you'll find yourself ruthlessly motivated to accomplish your goals. Your career will feel deeply intertwined with your ego and every single move you make will be charged by intense power. In fact, you might feel like the energizer bunny of the workplace, making everyone else seem lazy and slow-moving by comparison.
Aquarius
Although you might not be actively pursuing career advancement this month, you'll most certainly feel opportunities and rewards floating your way as if by magic. With Jupiter, planet of luck, infusing your 10th house of career with expansive energy, you'll gain recognition whether you work hard or not. However, imagine just how much you could accomplish if you do.
Pisces
When Mercury goes direct in your sixth house of health and work, you will enter a period of detoxing and reorganizing. This will be when you can clean up your mess, refocus your energy, and begin building something new in your career. The blueprints you lay down during this time will be genius, guiding you toward success for along time to come.