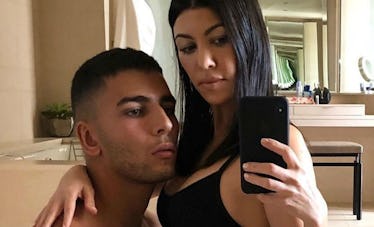 Younes Bendjima's Last Instagram Could Hint That He & Kourtney K Will Get Back Together
Instagram/KourtneyKardash
Kourtney Kardashian has had an emotional couple of weeks. First, she ended up rehashing a pretty brutal beef with her sisters on Twitter after the dramatic premiere of Keeping Up With The Kardashians that saw them arguing over the scheduling of their annual Kardashian family Christmas card. Then, amid all of the drama and angst, Kardashian's model boyfriend, Younes Bendjima, was spotted getting cozy with a girl that was not Kourtney in Mexico shortly before news broke that they were donezo after two years of dating. But could there be hope for a reconciliation? Younes Bendjima's last Instagram post could hint that there's still a chance the couple could give their relationship another shot.
Just about a month ago, Kardashian and Bendjima seemed to be living it up and having the time of their lives as a couple while vacationing in Italy. But their Italian bliss didn't last long, because cracks started to appear in their relationship on July 16 when Kardashian posted a pretty hot photo of herself rocking a thong bikini, and instead of leaving a comment about how #blessed he is to be with a smoke-show like Kourt, he decided to shame her, writing, "Thats what you need to show to get likes?"
Ummm. Ew. My jerk radar is going off so hard right now.
Obviously, Kourtney Kardashian was not feeling his comment. But apparently, Bendjima's comment may have been less to do with the actual content of Kourt's pic than it did with his insecurity over the fact that Kardashian had just dumped him. Because according to reports, the couple actually split sometime shortly before the whole wack-Instagram-comment drama went down.
So, fast-forward to now. Kardashian and Bendjima are reportedly over, but if you looked at Bendjima's Instagram profile, you might not guess it, because his last post is a picture of him and Kardashian serving looks in Italy.
And scrolling through Kardashian's profile, it looks like most of her pics with Bendjima are also still chilling on her profile.
The first thing most couples do when they break up is purge their social media accounts of all traces of their ex. But by the looks of it, Kardashian and Bendjima aren't ready to make that move. Is it a sign that they're still holding out hope that they can make things work?
Well, anything's possible, I guess. But it could also mean nothing.
When it comes down to it, Kardashian actually has a history of dealing with breakups really maturely. Taking down pictures of her exes isn't something she has a track record of doing considering all her pictures with her ex and father of her children, Scott Disick, are also still alive and well on her Instagram.
But based on Bendjima's salty comment on Kardashian's sexy pic, it seems like he isn't necessarily on the same level of maturity Kardashian is on in regards to breakups. So what's the deal?
Perhaps it's like one big game of chicken? Like, Bendjima won't take down his pics until Kardashian does first and vice versa? Then again, Bendjima's last photo was posted well over a month ago, so maybe he's just not that active on Instagram and didn't even think to delete his pictures with Kourtney? Only time will tell!