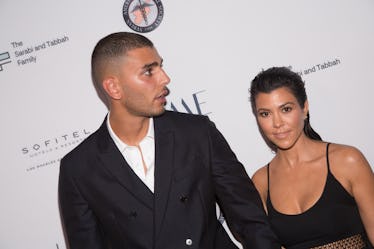 Kourtney Kardashian's Reaction To Younes Bendjima's Rude Instagram Comment Was Not Good
Gabriel Olsen/Getty Images Entertainment/Getty Images
Model Younes Bendjima is in hot water after leaving an impulsive comment on his girlfriend Kourtney Kardashian's Instagram account. For all intents and purposes, Bendjima has flown fairly under the radar when compared to Kardashian's ex, Scott Disick, so fans were surprised when he left a snarky comment on one of her photos. Kourtney Kardashian's reaction to Younes Bendjima's Instagram comment is reportedly frustration, which is totally understandable. Few things must be as disheartening as getting trolled by your own boyfriend.
Bendjima's comment came after he and Kardashian went on what appeared to be the trip of a lifetime. From what I can tell from their picturesque Instagram snaps in Italy, these two strictly wear only bathing suits. Kardashian's Instagram feed is usually some masterful combination of bikini shots, photos of her kids, and the occasional #ootd, and — if fans are lucky — a sneak peek at Bendjima, too. So, when she posted a photo kneeling in the grass in a thong bikini and a sun hat, it didn't register like an anomaly. However, Bendjima seemed to feel differently. In a since-deleted comment, he wrote, "that's what you need to show to get likes?"
Whoops.
The backlash was immediate and Bendjima quickly took the judgy comment down. However, it was too late and the damage was done. Kardashian's fans jumped to her defend her honor, quickly scoping out one of Bendjima's own bod-focused photos and commenting with his own words. A source told E! News Kardashian is "frustrated" by his comment.
According to the insider, Bendjima might have something of a jealousy problem. While he's always come across as aloof to me, the source says he has an impulsive streak that sometimes shows its ugly head. "Kourtney doesn't appreciate Younes posting his feelings in a public forum and being impulsive. She's frustrated that he continues to get upset about it," the source said. "She isn't going to stop doing what she's doing and feels like he needs to understand and deal with it." Elite Daily reached out to Kardashian and Bendjima's teams for comment on the report, but did not hear back by the time of publication.
Yup. Agreed. I don't know what people think is going to happen when they date someone from the most famous family on planet earth, but the last thing they should try to do is change them. Kardashian, like many celebrities, has a certain image and persona she keeps up for her fans, which includes sultry pics. Get over it.
The source continued:
Kourtney has explained its part of her job and it's not going to change. But it still makes him uncomfortable and upset. He overreacted and put up a comment without thinking it through. Then he realized what he did made it even worse. He was just not thinking in the moment and got emotional.
In fact, it sounds like he gets a little more than emotional. According to the source Bendjima "gets jealous and can be possessive" and "wants her for himself." Hm, very mature. Still, the insider says he understands this is her life and "knows he needs to accept it if they are going to be together."
Damn straight.
Check out the entire Gen Why series and other videos on Facebook and the Bustle app across Apple TV, Roku, and Amazon Fire TV.