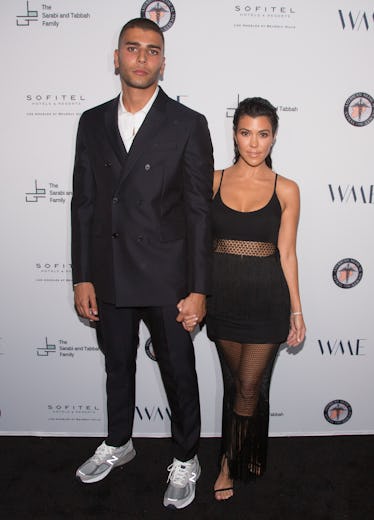 Kourtney K Showed Her Love For Younes Bendjima In A Way That's Even Better Than A Tattoo
Gabriel Olsen/Getty Images Entertainment/Getty Images
If there's one Kardashian that I admire for her subtlety, it's Kim Kardashian. LOL, JK, it's clearly Kourtney. She's always been pretty low key about her personal life — especially when it comes to her main squeeze, Younes Bendjima, who she's been dating for over a year. And, in true casual Kourtney Kardashian style, she showed off a killer accessory in a very NBD way. I'm talking about Kourtney Kardashian's Younes Bendjima earrings, and when you take a peek at them, you're going to want to get yourself your own pair, too. Believe.
The Keeping Up With The Kardashians star spent a ~romantic~ vacay with her absurdly handsome 25-year-old boyfriend in Rome, literally living her best life snapping shots of Roman architecture, exploring charming hidden streets, and making a wish by throwing some change into the Trevi Fountain. No, I wasn't there with her (I had other plans and had to cancel on her), but it's all on Kourtney Kardashian's Instagram Story for fans to salivate over.
But if you headed over to Bendjima's Insta, you'd see that his focus was less on the gorgeous Italian scenery and more on his gorgeous girlfriend. On his Instagram Story, you can see Kardashian showing off itty-bitty diamond stud earrings in her left ear that showed off her man's initials, "YB."
I'm not even going to front: I love this look. I love this look a lot. I love it so much, that I may or may not have just searched where I could find initial earrings so I could surprise my husband and wear his initials in my ears. It's much less permanent than a tattoo (and cheaper, obvi), so I'm really all for it.
Despite their significant age difference, it looks like Kardashian and Bendjima are crushing it as a couple. Back in December, a source told People that the two are "definitely serious" and it was clear that the two have a deep emotional connection:
No one thought their relationship would last this long, but Kourtney is very happy. Younes has met her kids. Kourtney's family really likes him. He's the opposite of Scott. He doesn't party, isn't flashy and really treats Kourtney with a lot of respect. It's obvious that he really cares about her.
And look how far they've come! On May 24, the pair celebrated their first year anniversary, with Bendjima sending Kardashian a beautiful floral arrangement of red roses. Kardashian took to her Instagram story to show her fans his thoughtful gift and wrote:
365 days of love @younesbendjima
Cute AF. Not "wearing initials of your loved one in your ear" cute, but cute enough, OK?
While the couple is consistently private about their love life, fans did get to see Younes Bendjima on KUWTK back in March, when he surprised Kardashian at a party for her Pretty Little Things line.
When Kardashian asked what he was doing at the party, he said, "You thought I would not come? I was like, 'I have to support you!'"
BRB, weeping.
And the love is totally mutual between the two of them, especially when Kourtney Kardashian presented a birthday cake for Younes Bendjima that featured a throwback photo of Younes when he was a child. The one-tiered cake also had script writing along the bottom that read, "Joyeux Anniversaire Mon Bébé!" (which, according to Google Translates, means "Happy Birthday My Baby" in French):
True love is going the extra mile for your significant other's birthday. It's also learning how to say cute things in another language, so Kardashian is clearly two for two here.
So, look. Maybe you don't have a Kim Kardashian and Kanye West kind of love. But maybe you do have a Kourtney Kardashian and Younes Bendjima kind of love, and that seems to be a pretty wonderful thing, too.
Long live Kourtney and Younes!