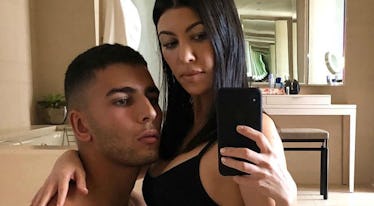 Younes Bendjima's 1-Year Anniversary Gift For Kourtney Kardashian Is So, So Sweet
Instagram/KourtneyKardashian
Ah, young love. There's something about the first-year anniversary when you're in a relationship that just makes it special. Maybe it's because you've realized you could go 365 consecutive days with one person and still find them attractive, or maybe it's because, within that time frame, you realized you looooved that person. Either way, it's an occasion that's meant to be celebrated, and being a celebrity apparently makes no difference. As with most celebrations, anniversaries are *really* good for one thing: PRESENTS!!! And guess what? Younes Bendjima's anniversary gift for Kourtney Kardashian is full-on, 100% over-the-top adorbs, you guys.
Can you even believe that the Keeping Up With The Kardashians star and young model have been dating for an entire year? It seems like just yesterday we were speculating as to whether or not they were seeing each other, but of course, there was really no way of denying their relationship based off of their countless Instagram pics together. Plus, how could two absurdly gorgeous people like that possibly keep their hands off each other? There's literally no way.
On Wednesday, May 24, Bendjima showed his love for Kardashian by sending her some extra-lovely flowers to mark their special day. Kardashian took to her Instagram story to show her fans a bouquet of gorgeous red roses shaped in a sphere and wrote:
365 days of love @younesbendjima
Beyond sweet!
You know, I hate to be the one comparing things, but Bendjima's floral arrangement sort of reminds me of the gigantic rose bouquet gift that Kim Kardashian sent to Chrissy Teigen after she welcomed her second child, Miles Theodore, to the world, no? I mean, take a look for yourself and tell me that Bendjima didn't get any ideas from his GF's sister:
Look, I'm not saying that his gift isn't the absolute sweetest, I'm just saying that maybe the idea wasn't exactly his own. Don't @ me.
This isn't the first time that Bendjima has gone above and beyond for his smokeshow of a lady, either. Just last month, he had a field day sharing photos of Kourtney and himself on several of their adventures on his Instagram story for her birthday. We're talking really sweet and intimate snapshots of a Kourtney Kardashian we don't normally see, like this one:
And snapshots of Kourtney channeling her inner Dora the Explorer:
So. Damn. Cute!
Most people don't exactly know how Kourtney and Younes met, but according to Kourt, it was simply through a friend of a friend. Can someone please tell me why none of my friend's friends look like that, though? Sigh.
Kardashian revealed their first real encounter on an episode of Keeping Up With The Kardashians, saying, "He was friends with our friends. He would walk in, say hi, shake hands with like our security or whatever, but like not say hi to us. And then I was like, 'Why do you hate us?' I was just drunk. Once I said that he literally like grabbed my hand and was like, 'It's five in the morning. We're leaving.' And the next night Younes was like, 'Bring your a*s here.'"
Is it hot in here? I feel like it suddenly got really hot in here.
Plus, the world finally got to see Younes Bendjima on KUWTK back in March, which was pretty much the highlight of my year. For a couple that remains so out of the spotlight, I absolutely loved seeing him attend a party for Kourtney's Pretty Little Things line and surprise Kourtney at the event.
When Kourtney asked what he was doing at the party, he said, "You thought I would not come? I was like, 'I have to support you!'"
OK, don't mind me, just weeping over their love.
Happiest of anniversaries to the most low-key couple of the Kardashian-Jenner family! We hope to see more of you (and maybe Bendjima's abs) in the future.