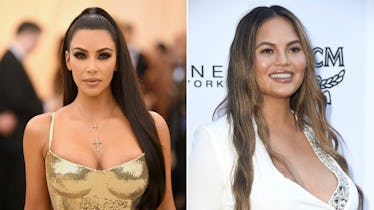 Kim K's Present For Chrissy Teigen After Giving Birth Is So Extra In The Best Way Ever
Jason Kempin/Frazer Harrison/Getty Images Entertainment/Getty Images
When your good friend celebrates a special moment in their life, it's nice to send a little something their way. And by "little something," I mean sending a card in the mail, or maybe even showing up at their house with a balloon. But clearly, I've been doing this whole friendship thing wrong, because Kim Kardashian's present for Chrissy Teigen after giving birth is so beyond extra, and I love it so damn much.
For those of you who aren't aware, the Lip Sync Battle co-host announced in the early hours of Thursday, May 17, that she and husband John Legend welcomed a baby boy to their family. She took to Twitter to tell the world that little Luna finally has a sibling by tweeting, "Somebody's herrrrrrre!" with two baby bottle emojis and two happy face emojis. While she didn't reveal the name of their newest addition in her tweet, Teigen did take to Instagram on May 21 to not only gift the world with her son's new moniker, but uploaded a photo of him as well. And, spoiler alert: He's cute AF.
In her Instagram post, she wrote,
Hello, world! This is Miles Theodore Stephens - We are drowning in his little peeps and nuzzles. Our household feels overwhelmed with love. Thank you for all your well wishes!
Oh. My. God.
Look at his tiny little face! Look at his itty-bitty hands that are already posing! Look at his peach-fuzz hair!
I can't, you guys. I'm dying. I'm dead. RIP me.
Once Teigen's BFF Kardashian found out about the birth of Miles Theodore, she immediately got to work in creating one of the most gorgeous and gigantic flower bouquets I've ever seen in my entire life.
According to Us Weekly, Kardashian sent Teigen a "jaw-dropping flower bouquet designed by celebrity florist Jeff Leatham," which featured "pastel-toned roses in the shape of a giant ball," which I know sounds kind of weird and not at all pretty, but you guys. Trust.
Teigen took to Instagram on Wednesday, May 23, to share a photo of the incredible arrangement that was gifted to her by Kardashian, and, in true Chrissy Teigen form, captioned the image with a witty joke. She wrote,
Joey Lawrence WHOA @kimkardashian thank you!! Going to open a potpourri business in about one week taking orders now!
Let's just take a minute to fully soak in this arrangement. Let's also take a minute to note that the ball of flowers is nearly as tall a Luna, and is probably quadruple her size, so NBD.
Little Luna is quickly realizing her new role as a big sister, and let me tell you — she's nailing it. Legend was on the red carpet for an Emmys Event in California on Monday, May 21, and told People how Luna's doing now that she has a baby brother. He said,
[Luna's] used to having us to herself ... I think she's just starting to realize though that he might be competition. So in some ways, it's good because she's stepping her game up. She's being more loving, she's singing louder, and dancing harder. She's making sure we don't stop paying attention to her.
Because I'm a younger sibling, I never knew the struggle of dealing with a new kid in the house, but I *do* know that my older sister pretty much reacted the same way Luna did. It's survival of the cutest, so may the odds be ever in your favor.
But I have a feeling that both Luna and Miles will be receiving nothin' but love from their parents, so I think they're both in the clear. Just a hunch.