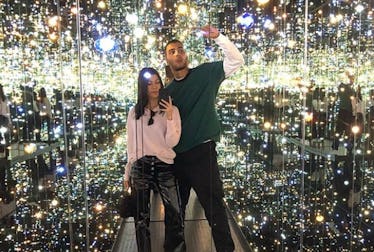 Kourtney Kardashian Posted A Shirtless Photo With Younes Bendjima & It's So Steamy
It's gettin' hottttttt in here, y'all. Kourtney Kardashian just posted a new photo with her beau and... you may need to sit down for this one. Kourtney Kardashian's shirtless photo with Younes Bendjima is so hot, it'll definitely fog up your screen.
Kardashian posted the photo to Instagram on Friday, March 30. The pic shows Kardashian straddling Bendjima on a bathroom floor while wearing a Calvin Klein bra and underwear and a pair of jeans. Bendjima is also shirtless, wearing just underwear and jeans as well. HOT. They're both facing the camera as Kardashian takes the mirror selfie. The caption reads, "#mycalvins #ad @calvinklein." Nice and simple... because with a post like this, you don't need much else. Look at all those abs! Those strong brows! The smizes! I can't handle it all. Someone get me a bottle of water... and a pair of Calvin Klein underwear. Please.
While we've seen pictures of the couple together, this is probably the most PDA we've gotten from Kardashian and Bendjima on social media. The last time Kardashian posted a photo with Bendjima on Instagram was Dec. 17, 2017 — a full three months before the Calvin Klein pic — and it was just a mirror selfie with some colorful lights surrounding them. Bendjima last posted a photo with Kardashian right after Halloween, so now we're going back almost six months. Needless to say, I'm happy to have these two back in my Insta feed. Take a look for yourself.
The photo comes as Kardashian and Bendjima spend time together road-tripping to several spots in California. The pair has been documenting it all on their Instagram stories. In one photo, Kardashian showed off a breakfast spread with tea and fruit overlooking a city. The caption read, "breakfast in bed."
Bendjima also posted another video to his account with the caption "OPEN CALL." In it, he documented a pit stop at a gas station with Kardashian, and he's heard saying, ""Kourtney Kardashian is inside, if anyone wants a selfie!" Yes, me, please!
So, what is Scott Disick up to while Kardashian spends her vacation time with her Bendjima? He's also on vacation. Kardashian's ex is in Mexico soaking up the sun with their kids and his girlfriend, Sofia Richie. Yep, Scott, Sofia, Mason, Penelope, and Reign are all relaxing at a resort in Cabo with Disick and Richie's SUPER ADORABLE puppy in tow. A source told E! News, "They've been spending their days by the pool relaxing and enjoying the warm weather. Scott's kids have stayed busy with lots of swimming and playing in the water."
It looks like Kardashian is getting used to the idea of taking a vacation every once in a while without the kids. In a Keeping Up With The Kardashians episode from January, Kardashian said,
I've definitely learned from my past relationship, where I really wouldn't travel without the kids and I think it is important to take time — especially because my relationship is important to me and those worlds aren't colliding right now — just making sure that I make time for both ... I think going on a trip once in a while reminds me the importance of being present and in the moment when I'm at home, and I think it makes me the best mom that I can be.
Preach, mama. Everyone deserves a break now and then. I'm glad to see this ~modern family~ has figured out what works best for them. And I'm glad to see Kardashian and Bendjima hamming it up on Instagram. Keep the pics coming, guys!