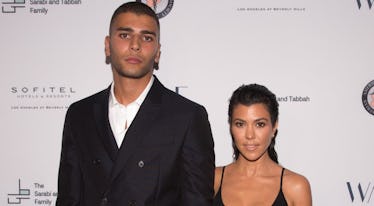 The Timeline Of Kourtney Kardashian & Younes Bendjima's Reported Breakup Will Shock You
Gabriel Olsen/Getty Images Entertainment/Getty Images
The news that Kourtney Kardashian and Younes Bendjima have broken up is still fresh. But the breakup itself may not be. A new report from TMZ suggests that the timeline of Kourtney Kardashian and Younes Bendjima's breakup is a lot more complicated that people were initially led to believe.
According to TMZ, Kardashian and Bendjima broke up a month ago, way back in early July. Sources close to Kardashian told TMZ that the Keeping Up With The Kardashians star called it quits with her boyfriend in the second week of July. And that was very shortly after their trip to Portofino, Italy at the end of June. Elite Daily reached out to Kardashian and Bendjima's teams for comment on this story, but has not heard back at the time of publication.
So, what caused the breakup? Apparently, Bendjima made a getaway trip without Kardashian after they returned from Italy. The report claims it was on that trip, Kardashian believes, that Bendjima reportedly cheated with another woman.
Being the strong woman she is, Kardashian was absolutely not going to stand for that, so she reportedly gave Bendjima the boot as soon as possible. The shocking thing about all this is the breakup reportedly predates Bendjima's rude and totally unnecessary comments on one of Kardashian's Instagram posts.
On July 16, Kardashian posted a photo of herself in a large straw hat and thong bikini. In the photo, Kardashian's back was to the camera, revealing her backside. Bendjima didn't take too kindly to the photo and made it known in the comments.
"That's what you need to show to get likes?" he reportedly wrote in a now-deleted comment.
At the time, a source close to Kardashian told E! News that the reality star didn't appreciate Bendjima's antics:
Kourtney doesn't appreciate Younes posting his feelings in a public forum and being impulsive. She's frustrated that he continues to get upset about it. She isn't going to stop doing what she's doing and feels like he needs to understand and deal with it … Younes gets jealous and can be possessive of Kourtney. When she posts half naked pictures, he gets very upset. He wants her for himself and doesn't want to share her with the world.
If TMZ's sources are to be believed, then Kardashian and Bendjima had already broken up by this point. It was only on Aug. 7 that fans started noticing that Kardashian and Bendjima were no longer following each other on social media. That was definitely a tip-off that the relationship had gone downhill.
So, basically, Kardashian and Bendjima reportedly waited nearly a month to let the world know that their relationship was done and over with... which is kind of strange, right? Well, it kind of makes sense since the new season of Keeping Up With The Kardashians just aired on Sunday, Aug. 5. It's possible that Kardashian didn't want to overshadow all positive media coverage for the new season.
But more likely, she was probably just processing all of it, especially if the breakup was especially explosive. It sounds like it may have been.