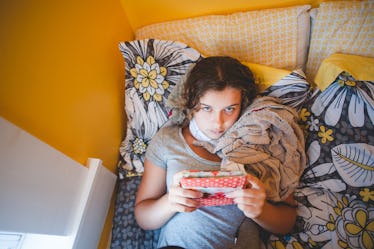 If You're Feeling Extra Moody Lately, You Can Probably Blame Mercury In Retrograde
So, Mercury is in retrograde from Mar. 23 to Apr. 15, and you might be wondering what, if anything, that has to do with your life. Now, if you have your ear turned toward the astrological world, you might have heard that it's best you don't make big life decisions during this time, or buy electronics, or worst of all, that you might feel moody during Mercury retrograde. It's no picnic, that's for sure, but all it really means is it's time to buckle down and figure out what helps you stay calm, cool, and collected while the universe does its weird, freaky thing.
First of all, let's back up and clarify what Mercury retrograde actually is, and why it's thought to make things on Earth so much more difficult. On her website Astrology Zone, astrologer Susan Miller explained,
Mercury doesn't actually move backward. If you do a bit of stargazing, you will see that Mercury appears to move backward, just as the ancient astrologers perceived thousands of years ago.
Miller continued,
Because Mercury is the planet situated closest to the Sun, its orbit is much shorter than Earth's. About three or four times a year, Mercury speeds past Earth, and that is when we experience a Mercury retrograde period.
Basically, Miller is saying that Mercury's movement past Earth creates "a gust of wind" that is turbulent and unsettling, and can potentially affect all of us mere mortals in huge ways.
Regardless of whether or not you actually follow astrology, the effects are real, guys. Nearly half of millennials believe that a Mercury retrograde really does affect them, and as a result, many avoid making big life decisions during this time, according to a recent poll done by The Tylt.
Instead of letting this particular Mercury retrograde get the best of you, consider using some of the following strategies to help you stay calm and centered, despite the chaos happening out there in the solar system.