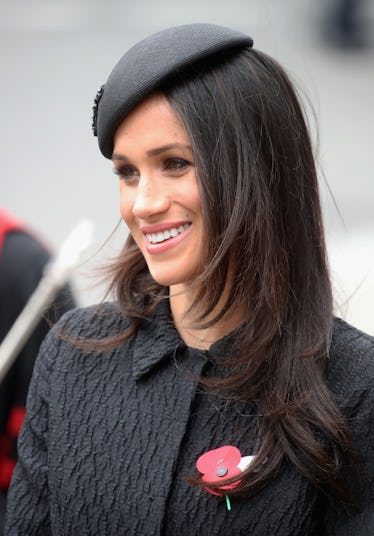 Will Harry and Meghan Have A Rehearsal Dinner? The Answer Might Surprise You
Chris Jackson/Getty Images Entertainment/Getty Images
Prince Harry and Meghan Markle have been rebels throughout their relationship. The pair'sbroken royal protocol left and right — from their cake selection to their wedding date to the rumors that Markle will have her mother walk her down the aisle (it is traditional that royal brides are escorted by their fathers). Well, that, and the fact that Markle is a Catholic, American divorcée. But, what are the monarch's rules about rehearsal dinners? Will there be a royal rehearsal dinner? That is the question, my friends. And I did a little investigative work to find out.
As it turns out, there doesn't appear to be much protocol here, though royal couples do tend to have a formal rehearsal at their venue before their nuptials. In 2011, William and Kate — now the Duke and Duchess of Cambridge (and parents of three, wow! Time flies) — had a rehearsal at Westminster Abbey on Apr. 27, two days before their wedding, as reported by the BBC. And when Harry's parents, Prince Charles and Diana, wed in 1981, they, too, had a rehearsal at St. Paul's Cathedral just before tying the knot Jul. 29.
However, neither couple reportedly had a formal rehearsal dinner following their practice run — in fact, according to Vogue (and a handful of my English friends, because your girl is currently based in Londontown!), the idea of a rehearsal dinner has been "imported" from the States.
But let's not forget: Meghan Markle is, indeed, American (USA! USA!). Which explains why the soon-to-be newlyweds are, allegedly, having a rehearsal dinner.
"Meghan and Harry are marrying American and British customs with their pre-wedding celebrations, like their rehearsal dinner, which is not typical for a wedding in the UK," a source shared with E! News.
And the breaks from tradition don't stop there!
According to Us Weekly, Markle reportedly had a small, spa-themed bridal shower at London's Soho Farmhouse in March (an atypical event in England, as women typically don't have bridal showers). And the Duchess-to-be will likely have a bachelorette party — or Hen Do, as they're adorably dubbed in the UK — just before their wedding. Perhaps even in conjunction with Harry's "Stag Night" (that's British for bachelor party, fellow Americans!) after their rehearsal dinner. Rumor has it, the trifold celebrations are set to take place two nights before the royal wedding day (May 19), which would make them May 17 (or so claims the insider who filled in E! News).
So, what else do we know about the big day?
As of Apr. 26, Prince William is officially set to serve as his little bro's best man, just as Harry was William's best man when he married Kate. And, though no official announcements have been made on this front, it looks like Meghan's longtime BFF and stylist Jessica Mulroney will serve as the bride's matron of honor (she's also said to be the pair's ~secret~ wedding planner, lending a hand behind the scenes and even helping Markle select her wedding dress).
Evidently, the tradition of having Best Men and Maids or Matrons of Honor is yet another wedding practice the Brits have snagged from the USA. Traditionally, as explained by Sky News, the bride and groom will have "supporters" — as both Prince Charles and Prince Edward did on their wedding days — but nothing more. However, William and Kate both opted to have their siblings play these roles at their wedding, and Harry and Meghan are apparently following suit. (Will Mulroney's MOH dress become as iconic as Pippa Middleton's was? Will blogs soon be dedicated to her booty? Only time will tell.)
In the meantime, I'll be busy chatting with the post office to see where my invitations to the royal wedding and rehearsal dinner are hiding. If you happen to stumble upon a spare, let me know?