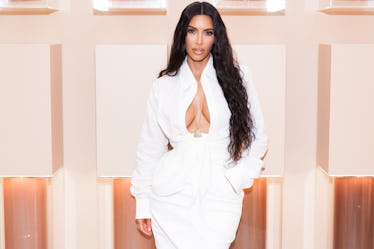 Kim Kardashian Hinted That A KKW Beauty Collection May Be Coming Soon, So Get Hyped
Presley Ann/Getty Images Entertainment/Getty Images
Remember the days when a Kardashian birthday meant watching the sisters and their friends partying it up in Las Vegas on a new episode of Keeping Up With The Kardashians? Same. And while those days are long gone, the outrageously famous family still knows how to throw down for their birthday. Although now, the celebration usually includes some sort of new product launch instead of a club appearance gig. Enter: the reported new KKW Beauty Collection for Kim Kardashian's Birthday.
With Kim K's 38th birthday just around the corner (October 21, to be exact), the mom of three hinted in a recent interview with Bustle that there's a KKW Beauty birthday collection in the works. (Much more lucrative than sitting on a couch in a Vegas club drinking champagne, if you ask me). And while the launch hasn't been officially announced yet, the star did drop a slight hint as to what can be expected from that collection. "It's gonna be definitely different than what KKW Beauty is used to, in terms of color and products," Kim explained to Bustle.
Translation? I'm thinking that means we'll be seeing colors that are a lot bolder and brighter than anything we've seen from the classic KKW Beauty lineup thus far. With the recent drop of the KKW Beauty Classic Blossom Collection, we saw a range of muted pinks, peaches, and berries that mimic the cherry blossoms Kim loves so much. And with KKW x Mario, we saw a range of browns, oranges, and a bright blue.
Perhaps — in terms of colors, at least —we'll see a shift from the muted, neutral tones and see eyeshadows or lipsticks offered in a range of deep purples, a variation of blues, or even a lime green? (Maybe Kim's recent neon green hair, which she iconically was a foreshadow?)
As far as products go, we can only hope the new birthday collection will offer some products totally new to the KKW lineup, like liquid eyeshadows (think: the gloss Ultralight Beams, but for your eyes), liquid or pencil eyeliners, or even (fingers crossed) a voluminous mascara to be able to channel those signature sky-high Kim K lashes?
Or there's always the possibility that Kim's 38th birthday means that the birthday collection will be a full-face, multi-product offering of all of Kim K's favorite eyeshadow, highlighter, blush, and lipstick hues. I mean, it is her birthday after all, so why not celebrate with a collection that is totally focused on numero uno: Kim.
With September coming to an end, it is very likely that we'll start to see the makeup mogul drop even more hints about the birthday collection launch on her Instagram feed. So if you're obsessed with KKW Beauty, Kim Kardashian herself, or you're simply looking to add some new, high-quality products to your makeup bag, I'd advise paying close attention to Kim's Instagram so that you can fully prepare your face (and bank account) for the new makeup launch in honor of her birthday.