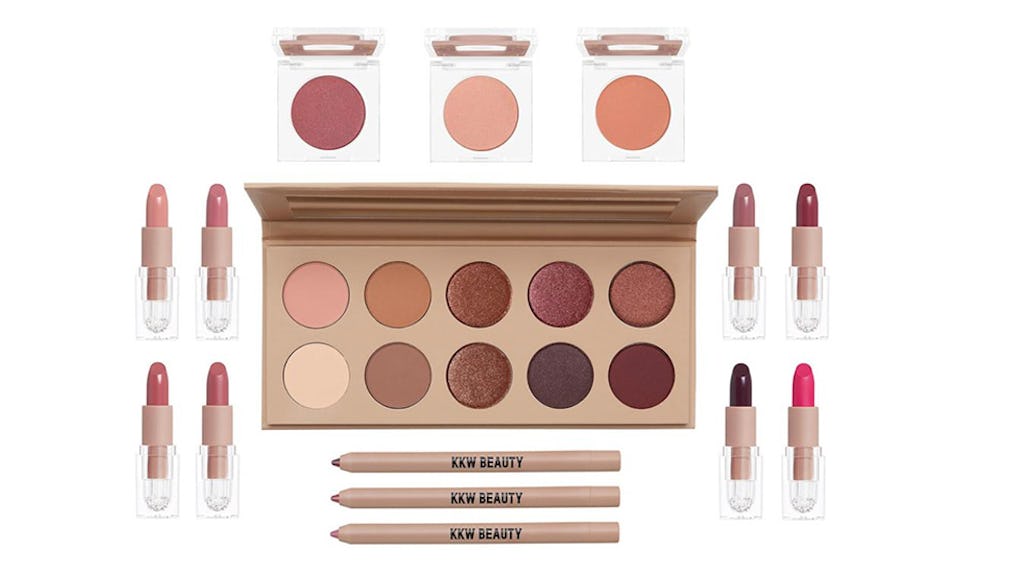 KKW Beauty
When Does KKW Beauty's Cherry Blossom Collection Drop? Here's How To Shop The Petal Pink Newness
I know we're arriving at peak autumn right now, but Kim Kardashian's latest beauty products have me craving spring in a big, big way. If, like me, you're already obsessed with the promotional posts (featuring Ms. Kardashian West dressed in nothing but pink flowers, natch) and the sneak peaks of the products themselves, you're likely planning to cop the whole collection as soon as it becomes available. So, when does KKW Beauty's Cherry Blossom Collection drop, you ask? We are days away, people, and I could not be more thrilled.
KKW Beauty's newest collection is inspired by Kim's love of cherry blossoms (remember her blossom-themed baby shower?), and if you aren't familiar with their long, iconic history, I'm sorry you're not as cultured as our girl Kim, but I'll generously fill you in. Native to Japan, the trees blossom beautiful pink flowers to signal the start of spring each year, and represent hope and new beginnings. The trees were brought to the U.S. in 1912 as a gift from the Japanese, and have become quite popular in Washinton D.C., where a Cherry Blossom Festival is held each year.
I went to see the cherry blossoms bloom every year in college, FWIW, and I never once saw Kim at the festival.
Nevertheless, she has announced her Cherry Blossom Collection, coming at you on September 14 at 12a.m. PT:
Soon, right? Sooner than soon, TBH, and my wallet was not prepared. But after checking out the product images and swatches, I know I'll be indulging regardless. Prior to this collection, the only way to enjoy cherry blossoms in their off-season was to revisit my childhood beauty favorite, the classic Bath & Body Works Japanese Cherry Blossom Body Lotion ($12, bathandbodyworks.com), and even though that tried-and-true favorite has stood the test of time, the flower's stunning pink shade definitely deserves a moment in the world of color cosmetics, too. Kudos to KKW Beauty for seeing an opportunity and taking it.
So, what exactly is for sale on September 14? The show-stopper item, of course, is the Cherry Blossom Palette ($45, kkwbeauty.com). Along with the petal-perfect shade "Chi", the palette boasts nine additional shadows that range from smoky to shimmery, to compliment that cherry blossom pink.
And for the cheeks? KKW Beauty is known for their Kardashian-approved highlighters, but this time around they've gone the route of blush, with three stunning Cherry Blossom Blushes ( $18, kkwbeauty.com). All packaged in the brand's signature clear-and-millennial-nude casing, the shade range includes shimmery plum "Karma," terracotta peach "Grace," and rosy pink "Destiny," so there's definitely something in this collection for every skin tone.
For lips, Kim has whipped up a monochromatic colorwheel of Pink Crème Lipsticks ($18, kkwbeauty.com). If her previous collection of nude lipsticks and liners helped you find your signature nude, I guarantee that this time around you'll walk away with your perfect pink. The shades range from cool-toned baby pinks to deeper berry and hot fuschia shades.
And to shape that pout, the Pink Crème Lip Liner ($12, kkwbeauty.com) is an obvious must. These come in three versatile pink shades, and while they'll prep the lips for any of the above pink lipsticks, you can also use pink lip liners to add a little life to any nude lipsticks that didn't mesh well with your skintone. Don't be afraid to mix and match your lipsticks and liners, people!
And of course, if you're ~feeling spendy~, you can buy the entire collection via the Cherry Blossom Bundle ($260, kkwbeauty.com). There's only 205 days until April 4, the peak bloom date for D.C.'s cherry blossom trees, so if you impulse buy this collection, justify it as if you paid around a dollar and some change daily from now til cherry blossom szn, so that you could have the appropriate makeup with which to pose for a selfie in front of the trees.
Or, if you aren't a "selfie in front of the trees" kinda gal, you could go all the way and bathe in the flowers themselves, a la Kim in the promotional campaign, because why not:
Which products will you be snatching up? You have until September 14 to decide. Here's hoping my perfect pink lipstick shade (#2!) doesn't sell out before I get to the KKW site that day at noon PT.