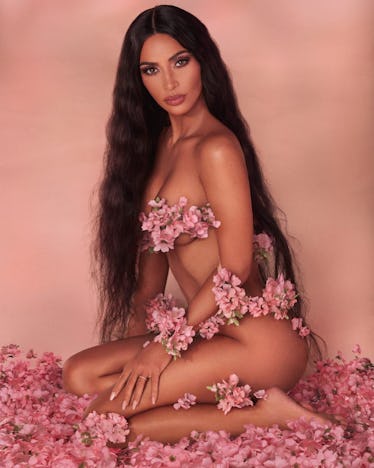 KKW Beauty Is Dropping A Cherry Blossom Collection & The Reason Why Is So Sweet
KKW Beauty
Does Kim Kardashian West ever sleep? I'm starting to think the answer is no. The celebrity is always coming out with a new product or project and I don't know where she finds the time. Alas, all I really need to know is, what's in KKW Beauty's cherry blossom collection? It looks gorgeous and the products have such a meaningful inspiration.
People say hindsight is 20/20, and in this case, they may be right. Kardashian West re-released her KKW Beauty Ultralight Beams highlighters a couple of weeks ago, and the biggest change to the shimmery powders were new colors – pinks and purple. And now, this soon-to-be collection is inspired by pink cherry blossoms trees! Often a fan of strictly neutral hues, Kardashian West is branching (get it?) out into more colorful territory.
KKW Beauty tweeted about the new, somewhat surprise collection and sparked my excitement. Kardashian West has sometimes given up to a month's notice before new products, or hints even farther ahead of time about "vibes" for upcoming "secret projects," but this time she's only giving her fans a few days to prepare. I can only hope that means collection will be relatively affordable, not that that would stop me from wanting it all, anyway.
"The brand new Cherry Blossom Collection by @kkwbeauty is inspired by @KimKardashian's love of the pink-hued Cherry Blossom trees," tweeted the official KKW Beauty account. Kardashian West looks gorgeous in this photo (no surprise there), and also a little bit like Cher. But the real point here is the makeup! The Armenian beauty is rocking a rosy-hued eyeshadow, a pretty pink blush, and some luscious lipstick.
Kardashian West also promoted the new drop: "My new Cherry Blossom Collection is almost here. The collection includes a 10-pan eyeshadow palette, 3 blushes, 8 lipsticks and 3 lip liners in shades of pretty pinks and berries. So excited for you guys to get this beautiful collection!"
Finally! Some info on what to expect, and wow is it a lot. That's a total of 15 products, one of which is a ten-pan eyeshadow palette.
So. Excited. Take a look!
These colors are basically eyeshadow porn to me and I'm practically drooling over it.
My karma must be good because these graceful blushes are my destiny.
I think pinks are the new neutral.
Number eight is hot.
In the likely event that you won't be able to decide which individual products you want, you'll also be able to get the full collection bundled together.
Perhaps even more beautiful than the new collection looks to be, is its inspiration. Kardashian West said in an Instagram post that the new launch "is inspired by my love for the pretty pink-colored trees (Chi's baby shower was cherry blossom themed!)." So the floral-themed collection is actually inspired by her youngest daughter, Chicago West.
West's baby shower had a cornucopia of cherry blossoms and the flower clearly reminds Kardashian West of her adorable baby girl.
Kardashian West's cherry blossom collection will be available online at KKW Beauty on Sept. 14 at 3 p.m. ET, so get your phone, laptop, or tablet charged up so you can snag the new goods as soon as they drop. You know they'll go quickly.