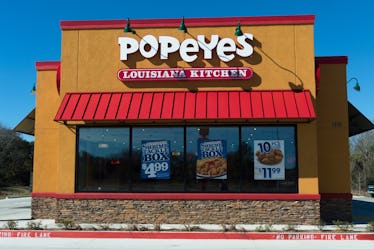 Popeyes' Thanksgiving Hours Mean You May Want To Order Your Cajun Turkey ASAP
Jim McKinley/Moment Mobile/Getty Images
If all you want for Thanksgiving dinner is some fried chicken (or a super popular chicken sandwich), you might just be wondering if Popeyes will be open on Thanksgiving. The famous Louisiana Kitchen doesn't have set holiday hours for all of its restaurants, so it varies by location. Thankfully, it's super easy to check with your nearby Popeyes location, so you can plan your holiday accordingly.
According to a Popeyes spokesperson, some locations will be open on Thanksgiving, which falls on Thursday, Nov. 26 this year. To check if your go-to spot will have its doors open on that day, you'll have to call your local Popeyes. If it's open on Nov. 26, you'll also want to ask what the holiday hours will be, since they may differ from regular operating hours. If your location is open and you visit, be sure to follow Popeyes' coronavirus guidelines, including wearing a face mask and social distancing.
If you aren't able to go to Popeyes on Thanksgiving, you can bring a little bit of its flavor back home to you. The Popeyes' Cajun Style Turkey is available for purchase ahead of Thursday, Nov. 26. You can order a Cajun Style Turkey for the holiday, with prices starting at $39.99. A Popeyes rep confirmed that these are anywhere from 13 to 16 pounds when cooked and come precooked, so all you have to do is heat and serve. You should call your location to check when you can pick it up.
Although the Popeyes Cajun Style Turkey is a more traditional option, you can also celebrate with Popeyes' Churkey meal deal on Uber Eats, which is a perfect option if you want to be festive in name only. The $20 meal is available on the Uber Eats app and includes an eight-piece meal of Popeyes crispy fried chicken, one large side, and four biscuits. Of course, you'll have to check if your location is open on Thanksgiving to enjoy the deal on the holiday, but if you can't get it on Turkey Day, you can try it before it leaves the app on Sunday, Nov. 29.
Whatever you order, make sure you remember to follow the coronavirus safety recommendations from the Centers for Disease Control and Prevention (CDC) as of Sept. 11. When ordering with Uber Eats, you can choose contactless delivery, with your food left at your door. After you get your order, be sure you throw away the packaging and wash your hands before digging in.
If you think you're showing symptoms of coronavirus, which include fever, shortness of breath, and cough, call your doctor before going to get tested. If you're anxious about the virus's spread in your community, visit the CDC for up-to-date information and resources, or seek out mental health support. You can find all of Elite Daily's coverage of coronavirus here.
This article was originally published on