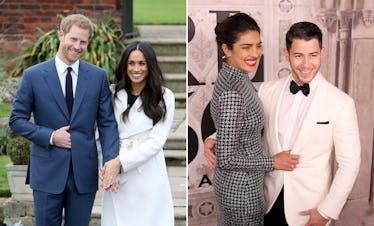 Here's Why Meghan & Harry Probably Won't Be At Nick Jonas & Priyanka Chopra's Wedding
Chris Jackson/Rob Kim/Getty Images Entertainment/Getty Images
Name two couples that are more iconic than Meghan Markle and Prince Harry and Priyanka Chopra and Nick Jonas right now. I'll wait. Of course you can't think of any, because they don't exist! And if you're following each couple religiously, like I am, you'll know that both Meghan and Priyanka are pretty much BFFs. I mean, Priyanka even attended the royal wedding back in May. So, I bet you're all wondering if Chopra and Jonas sent a wedding invite to the royal couple. And, if they did, then the bigger question is: Will Meghan and Harry be at Priyanka Chopra and Nick Jonas' wedding? Well, you guys, it's a bummer, but unfortunately, it looks like the royal couple won't be in attendance.
Now, if you're wondering why, the answer is most likely the obvious: Meghan Markle's pregnancy. A source told Us Weekly, "Meghan will not be going to Priyanka's wedding, especially now that she is pregnant." Elite Daily reached out to Kensington Palace for comment on the report, but did not hear back by the time of publication.
It makes total sense, considering Markle would have to travel all the way to India to celebrate her friend's nuptials, so I can't say I blame her for having to RSVP "No." I bet if the wedding festivities were closer to the royal couple's current stomping grounds in England, it would be a no-brainer to attend, but sadly, India seems just a bit too far for an expecting Duchess.
We know, Meghan. But you have a growing bump to think about, and we're sure your friend Priyanka totally understands.
While we're on that subject, let's have a quick chat about the everlasting bond that is Meghan and Priyanka's relationship. Because marriage is great and all, but friendship is forever. (Relax, I know marriage is, too! Well, usually.) Let's have a look at this little group of ridiculously good-looking friends, shall we?
The two couples have reportedly double-dated in the past.
Now, look. There's no photographic evidence that Meghan Markle and Prince Harry went on a double date with Priyanka Chopra and Nick Jonas, but my brain truly does not care and will act as if whatever Us Weekly reported is bible.
Back in July 2018, the publication reported that the two couples had a get together at one of the Duke and Duchess of Sussex's country homes in Oxfordshire, England — the same week that Jonas reportedly proposed.
There's nothing in this world that proves you're thick as thieves as a double date. Add in the fact that they were all chilling in one of the many royal estates? C'mon. These four are tight.
Meghan was reportedly elated when Priyanka got engaged.
There's no better phone call (or text, or FaceTime... you get the idea!) than the one where your friend tells you that her boyfriend is now her fiancé.
And guess what? Celebs are no different, because it's reported that both Meghan was over-the-moon excited when Priyanka got engaged.
According to E! News, the Duchess of Sussex is reportedly completely on board and "very excited" about her engagement to Jonas.
"Everyone is very happy and they are definitely a great match," the insider said. Sounds very much like a bestie to me.
Priyanka was beyond excited about Meghan's pregnancy announcement.
First comes love, then comes a royal wedding, then comes... a royal baby, duh!
As we all know, Meghan Markle announced her pregnancy news back on Oct. 15, and just days later, her BFF told People how happy she was for the Duchess of Sussex.
On Friday, Oct. 19 at JBL Fest in Las Vegas, Chopra told the outlet, "I would, as a friend, just say that I'm really excited for her." She continued, adding, "I think this is a new phase in every woman's life, and I hope hers is as amazing as she wants it to be."
OK, way to make me cry!
So, you tell me: What group of people are there to celebrate and support each other throughout all of the big moments in life (even if it's only in spirit at times), exactly the way this foursome is doing?
That's right, folks. It's FRIENDS.
Here's to Harry, Meghan, Priyanka, and Nick. May their friendship be as successful as all of their careers.