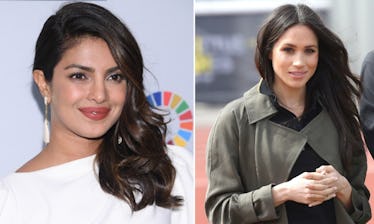 Meghan Markle's Reported Reaction To Priyanka Chopra's Reported Engagement Is Everything
DIMITRIOS KAMBOURIS/GETTY IMAGES ENTERTAINMENT/GETTY IMAGES | CHRIS JACKSON/GETTY IMAGES ENTERTAINMENT/GETTY IMAGES
Is there any friendship out there as perfect as Priyanka Chopra and Meghan Markle's? The two are ultimate BFFs, and it seems like they're always there for each other throughout some of their biggest moments. One of the most significant moments to happen as of late is, of course, Chopra's reported engagement to her beau Nick Jonas — and the actress' BFF apparently had a really sweet reaction to the news. According to insiders, Meghan Markle is reportedly "very excited" about Priyanka Chopra's reported engagement, and it's everything.
If you somehow haven't heard, Jonas reportedly shut down an entire Tiffany & Co. store to find Chopra the perfect sparkler — days before proposing to her on her 36th birthday on July 18 while they were visiting London together. Elite Daily reached out to both Jonas and Chopra's teams for comments on the reported engagement but did not immediately receive a reply.
Of course, the news of the reported engagement was met with both overjoyed and confused reactions from fans of both stars, but it's safe to say Chopra's BFF reportedly had the best response yet. According to E! News, the Duchess of Sussex is reportedly completely on board and "very excited" about the engagement.
"Everyone is very happy and they are definitely a great match," the insider continued.
Elite Daily reached out to Kensington Palace for comment on Markle's reported reaction to Chopra and Jonas' rumored engagement but did not hear back by the time of publication.
Chopra and Jonas are a "great match" indeed. They've pretty much been inseparable since stepping out as a couple just a few months ago — around the same time of Markle's magical wedding to Prince Harry — seeing as Jonas brought Chopra as his date to his cousin's wedding and Chopra brought Jonas to India to meet her family.
And speaking of the royal wedding, Chopra penned an adorably sweet essay for TIME magazine back in April about Markle's own engagement to Prince Harry. In the essay, the Baywatch actress compared the royals' romance to a fairytale of its own kind, writing, "This ever-smiling, strong free spirit found her prince, fell in love and in turn made a cynical world believe in fairy tales again."
Chopra also opened up about the compassion, realness, kindness, and love that lies within Markle, continuing:
Somewhere among biryani, poutine and endless conversations, I realized just how deeply Meghan Markle cares for the world. With her, what you see is real, and what you get is a relatable young woman with her heart and mind in the right place. Her compassion, evident in the causes she supports, and her drive to break down stereotypes—obvious in her actions—will connect her to a generation in much need of kindness.
Aww! Clearly, these two friends love each other tremendously and are great support systems for one another. They're truly the epitome of best friend goals, and I honestly cannot get enough of it. Can't wait to see how amazing they all look at the wedding when it rolls around.