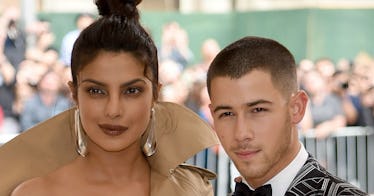 Priyanka Chopra Said The Sweetest Thing About Nick Jonas & I'm So In Love With Them
Dimitrios Kambouris/Getty Images
Priyanka Chopra and Nick Jonas are definitely on my official list of celebrity couples I did not expect to ever happen (top of the list is Ariana Grande and Pete Davidson), but hey, I'm still into it. The new lovebirds have been spending a lot of time together lately, and lucky for us, they've documented a lot of those moments on social media. That, or fans who saw them on their dates documented them for us. Either way, the Lord's work is being done. Priyanka Chopra's comment about Nick Jonas while on vacation together is a-dor-a-ble. The Quantico actress took to her Instagram story on June 26 to gush over her new boo for a second. She posted a photo of Jonas standing on a beach, looking out at the water, and captioned it, "My favourite men" with the heart eyes emoji.
Wait, men?! As in plural?! Yes, Jonas is not alone in the picture, as you can see. The other guy standing on this beach with Chopra and Jonas, according to E! News, is reportedly Chopra's brother. Jonas is already meeting the family, ehhhhh? The trio were hanging out on a beach in Goa, India when Chopra snapped the photo of the two men, so I guess we can take this as her saying, "Yup, Nick Jonas is my boyfriend." Maybe? Possibly? Yes? Let's go with maybe.
The view in this photo is great, and I'm not talking about the beach.
A source recently revealed to People that Jonas is meeting Chopra's mother while they're on vacation in India. In fact, People reports that this trip was basically planned all so Jonas could meet Mama Chopra. "They're very happy," the source told the outlet. "It's getting serious." Elite Daily reached out to Jonas and Chopra's team for comment at the time, but did not hear back by the time of publication.
Another source told People that Jonas bringing Chopra to his cousin's wedding in New Jersey on June 9 was a huge deal for the new couple, largely because Jonas hasn't had a serious relationship in a while. Lots of dates and flings, they said, but nothing longterm. "It's a huge deal that Nick brought Priyanka to his cousin's wedding," the insider said. "He's dated a lot over the last couple years but it's never been anything serious, so this is a big step." Eep! I'd like to officially retract my "maybe" from earlier and replace that with a definite "Oh hell yeah, these guys are dating." But that's just how I see it...
Anyway, Chopra has said in the past that she's looking for a partner who can woo her and is "cerebral," aka she wants a dude with a brain. Chopra once told India Today that she prefers to be chased. "I like to be given attention," she said. "Not like creeper-worthy attention, that would freak me out. But I like to be pursued and wooed." She continued,
And if he's not cerebral, if he's not smart and cannot engage me, then it cannot happen. That's the biggest, most important thing for me. I'm very mushy, I love romance.
Something tells me Nick Jonas doesn't struggle in the romance department.
She also told India Today that she definitely wants to get married and have babies. She said,
Marriage and kids are a big goal for me. I'm a big believer in the institution of marriage and in the family, and in kids, I want to have a lot of them, if God allows. The only problem is, I don't know who I'll do it with.
Might I suggest a former Disney Channel star? Someone say, I don't know, like Nick Jonas? Iconic star of Camp Rock turned pop-music heartthrob? I'm just spit-ballin' here!