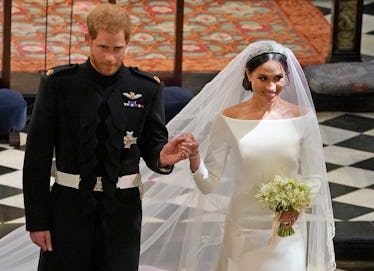 Here's How Many People Watched The Royal Wedding & TBH, I'm Not Surprised
WPA Pool/Getty Images Entertainment/Getty Images
The royal wedding weekend of Prince Harry and Meghan Markle has officially come to a close, and I for one am feeling the withdrawal already. It's safe to say that any burning questions the world had prior to the nuptials have been answered — what the bride and groom wore, who was in attendance, and every little detail in between has been revealed. But after the vows were exchanged and the happy couple rode through Windsor in fairytale-like fashion, one question remains: how many people watched the royal wedding?
The short answer is, a lot. Prince Harry and Markle drew in millions of viewers worldwide — not to mention the thousands of spectators that traveled to Windsor to witness the wedding action in person.
But in terms of network viewership, the stats are officially in — and it looks like this royal wedding broke all the records. In the United States, an estimated 29.2 million people across 15 networks tuned in early on the morning of May 19 to catch all the action that Markle and Prince Harry's wedding had to offer, according to The Hill.
In terms of how the viewership broke down network by network, most Americans turned to NBC, where 6.4 million viewers watched 10 of their favorite network correspondents detail each moment of the big day. In a close second was ABC with 6.34 million viewers, followed by Fox News with 2.036 million, and CNN with 1.764 million.
As for the viewership in the U.K., a total of 18 million viewers watched Markle and Prince Harry get hitched, according to The Hill. Most Britons turned to BBC, the country's national network, to watch the wedding, with a total viewership of 13.1 million.
So how does Prince Harry and Markle's wedding match up against the last British royal wedding the world witnessed? When Prince William and Kate Middleton got married at Westminster Abbey in London, about 23 million U.S. viewers tuned in across 11 networks, according to Deadline. Stateside, Harry and Meghan have Kate and William beat by nearly 6 million. But if you factor in the U.K. audience that Middleton and Prince William drew in, which was a massive 25 million people, their viewership totals to 48 million viewers. Prince Harry and Markle currently have a combined U.S. and U.K. viewership of 47 million, losing to the Duke and Duchess of Cambridge by a very narrow 1 million. But as Entertainment Tonight reports, that figure might change after Nielsen Media reports their cable figures.
While Prince William and Middleton's wedding was definitely an important wedding, seeing as the Duke of Cambridge will eventually (and inevitably) be crowned the King of England, Markle and Prince Harry's wedding was important for a whole different set of reasons. Markle is everything but a typical British royal bride. She's a celebrity in her own right, formally starring on USA Network's hit legal drama Suits, a divorcée, both a commoner and an American, and biracial. For these reasons, Markle was not immediately accepted by the British as a proper partner for Prince Harry, and she continues to be scrutinized by some even though she's already wed the prince.
But it's those same ways in which Markle is untraditional that arguably made Americans more invested in this union, which is reflected in the viewership figures. Even though Markle has not received the title of "princess" despite marrying the prince, she's become a sort of American princess in the country's eyes.
Who's to say that Prince Harry and Markle won't top William and Middleton when the final viewership tallies come in? I definitely think that this royal wedding was a lot more fun to watch than the last. It felt more relaxed and a lot more personable, which is telling of who Harry and Markle are as a couple.