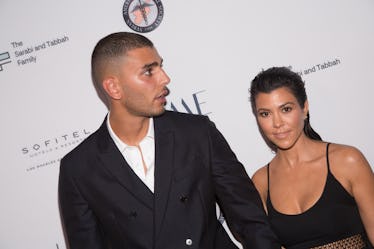 Kourtney K Said The Most Surprising Thing About Having More Kids, So Younes, Get Ready
Gabriel Olsen/Getty Images Entertainment/Getty Images
I can't wait to tell my grandkids one day what it was like to live through The Great Kardashian Baby Boom of 2018. Watching this famous family pop out these children has been one of the sincerest pleasures of my life. Sure, that's maybe a little bit sad and says something extreme about the state of celebrity and pop culture in society today, but I can't help it. I love this family. Oldest sister Kourt recently commented on the joys of her growing family, causing many people to wonder — Wait, will Kourtney Kardashian and Younes Bendjima have babies, too? By the sounds of it, MAYBE.
I know. It's so exciting to think about.
Over the course of three months, the Kardashians welcomed Chicago West, Stormi Webster, and True Thompson. All girls. All perfect. Chicago is the third child to parents Kim Kardashian West and Kanye West, and Stormi Webster is Kylie Jenner's first baby with Travis Scott. True Thompson rounds out the trifecta as baby girl to parents Khloé Kardashian and Tristan Thompson. This means sisters Kendall Jenner and Kourtney have been on serious aunt duty welcoming their new nieces to the party. Of course, Kourtney was the first sibling to pioneer into parenthood and it sounds like she still might have that baby-fever.
"It's such a blessing. I don't even know how we got here with so many babies but it's so amazing," she told E! News. "Just the fact that our kids can all grow up together…it's such a magical time in our family." Kourtney was speaking with the news outlet about the upcoming season of Keeping Up With The Kardashians, which fans anticipate will follow the respective sister pregnancies and births.
Kourt explains her bond with her sisters has changed and grown now that they're parents, too. She said, "It's amazing watching them. And I think I can also now say, 'Now you can see how I did it, why I was feeling this way.'" She added,
I think we just relate to each other and I think you never know how you're going to be as a mom, so watching them and how they're doing it—like everyone has their own way. You really can't predict what you're going to be like. So I think just watching them is really, it's really special to see their journey.
Kourtney has three children of her own with ex-boyfriend, Scott Disick. Mason, 8; Penelope, 6; and Reign, 3, are adored by fans everywhere. Her boyfriend Younes Bendjima, who is 15 years her junior, is unbothered by the size of her pack. In fact, based on Kourtney's interview, they might just be on their way to having a wee-one of their own someday. (!!!)
She explained to E! News she's always open to the idea of more kids. "I think the thought is always in the back of my mind," she said. "Never say never."
Never. Say. Never. Younes.
Kourtney, Kim, Khloé, Kylie, and Kendall, too, if you have kids one day. I am always available for godmother duties. Bible.
Season 15 of Keeping Up With The Kardashians premieres Sunday, August 5, on E!