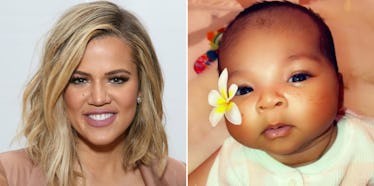 Khloé Kardashian Posted The Cutest Videos Of Baby True In A Tutu & I'm Sobbing
Cindy Ord/Getty Images for Allergan/Instagram
True Thompson looks cute as a damn button all the time, but she's especially cute on Khloé Kardashian's latest Instagram story. Early in the morning on June 5, the reality star posted two videos of her nearly 2-month-old daughter, and you can bet I'll be playing Khloé Kardashian's videos of True Thompson in a tutu on a loop all day long today. The videos show baby True sitting on a couch at what I'm assuming to be Tristan Thompson's Cleveland home. She's wearing a pink tutu complete with a pink bow in her hair, and it's the sweetest thing you'll see today. She also lets out a tiny sneeze that makes Kardashian squeal over its cuteness and honestly, same.
Kardashian is in straight-up baby bliss with her daughter. If that wasn't clear through her videos of True, her Twitter really drives that fact home. On May 29, the new mom tweeted, "I sometimes, still can't believe im a mommy!!! I'm so so thankful for such a blessing!! True is the sweetest ever! I got my bestie for life! Thank you Jesus for my angel." She clearly can't get enough of her little one, and neither can I.
The videos she posted of True in a tutu are seriously the most precious things ever.
That little sneeze! I live.
Her cuteness is almost too good to be True...
Get it?
Kardashian and True are still living in Cleveland at Tristan Thompson's home, but she's reportedly returning to L.A. soon. On the red carpet of the CFDA Fashion Awards on Monday, June 4, Kim Kardashian revealed she, Kylie Jenner, and Khloé Kardashian are planning a photo shoot for Chi, Stormi, and True since they were all born so close together.
"The three little girls are gonna grow up together," Kardashian said, "Chi and Stormi are just two weeks apart and then True is just a few months behind so that's really exciting." She continued,
We're so excited. Me and Kylie [Jenner] and Khloé are planning one of those kids' photo shoots, just like a silly shot that we can have all the girls, 'cause Stormi and Chicago have so many pictures together. So, we can't wait for True to join the crew.
Kris Jenner told E! News on Sunday, June 3, that Kardashian is planning on moving back to Los Angeles with True in tow "soon." She said that she goes "back and forth" from Cleveland and L.A. to visit Khloé and her ninth grandchild, but she's excited for her to come back to L.A. "She'll be home soon," Jenner said. How soon is "soon," though, Kris?! Jenner's answer was vague and doesn't include anything about Tristan Thompson, which could be taken as a hint that he won't be moving along with Kardashian and their daughter. But only time will tell what's really going on with that.
In the meantime, Jenner said Kardashian is adjusting well to motherhood thanks to the practice she had with her siblings' kids. "She's great," Jenner said, "She's the best mom in the world. She had a lot of practice with the nieces and nephews. I think [being a mom is] a dream come true for her."
It's a pretty solid theory. Kris Jenner revealed that True is also a family name in an Instagram post on April 16.
The momager said,
I'm so excited to welcome my precious little granddaughter True!!! FUN FACT... my Grandfather's name on my Dad's side was True Otis Houghton....my Dad's name was Robert True Houghton...so i am so excited Khloe named her daughter True!!! #lovebug#familytradition#family@true
When it comes to the future of the photos released of True Thompson, True has her own Instagram already with more than 200,000 followers. Somehow, the handle @true wasn't already taken, so Kardashian snatched that handle up for her daughter. It doesn't have any posts yet, but since the account exists, it clearly will one day soon. Dear Khloé, please include every video you have of True in her tutu on her new Instagram, please? K, thx!