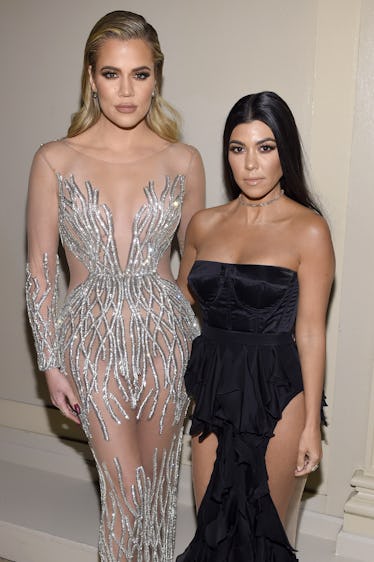 Khloé K Blasts Kourtney For Being "B*tchy" In This Intense Clip From 'KUWTK' Season 15
Dimitrios Kambouris/Getty Images Entertainment/Getty Images
Trouble is brewing on the new season of Keeping Up with the Kardashians! The first clip from KUWTK Season 15 is here and it looks like Kourtney and Khloé are having some sisterly issues. In the clip, Khloé fearlessly calls Kourtney out over her bad attitude. And, as expected, things escalate quite a bit. Oh, and Kim is there to witness it all!
So, here's the set-up that leads to this confrontation: Basically, Khloé is having a meeting at her house with Kim and Kourtney. Kourtney shows up late, leaving Khloé and Kim waiting on her for their meeting to start.
"I don't understand her f*cking attitude," Khloé says to Kim, who expresses fear over having to interact with Kourtney.
Kourtney eventually waltzes onto the scene, but she's paying zero attention to her sisters. Her eyes are glued to her phone for the entirety of the conversation, forcing Kim and Khloé to try their hardest to get her attention. It's a wasted effort, though, because Kourtney clearly wants no part in the conversation.
Given that Kourtney doesn't intend to participate in the meeting, Kim gets right to business: She's planning a baby shower for her new baby, Chicago, who was born via surrogate in January 2018.
See the whole conversation for yourself right here:
As Kim and Khloé discuss baby shower possibilities, Kourtney remains totally silent and focused on her phone.
Then, seemingly out of nowhere, Kourtney speaks. And what she has to say is not very nice at all.
"Who let you choose black covers for your furniture?" she says to Khloé. "Disgusting. Usually people get a color that's, like, neutral to your floor. Who chooses black?"
After a few minutes of sarcastically going back and forth, Khloé finally cuts Kourtney to the quick.
"What is up your ass?" Khloé asks. "Seriously, what the f*ck is wrong with you? Why are you so b*tchy these days?"
Kourtney's response? "I'm a born b*tch."
Yikes! There's no indication just yet what may have caused Kourtney to take on such a nasty attitude, but I'm sure Kardashian fans will get the scoop once the new season starts on Aug. 5.
In any case, the new clip does show Khloé (who was pregnant at the time) taking a moment to reflect on her confrontation with Kourtney.
"It confuses me how Kourtney is confused that we're butting heads," she says. "Trust me, if I wasn't pregnant, I probably would have f*cking drowned you in the pool."
Wow, those are definitely some strong words. Hopefully, she didn't mean them. Khloé was, of course, pregnant with her daughter True at the time. She gave birth to True in April 2018. In the Season 15 teaser, she doesn't look that pregnant, so this all must have happened early on in the pregnancy.
Kim, who was mostly silent during the sisters' squabble, actually opened up a little about Kourtney's attitude during a recent interview.
So, it wasn't just Khloé who was having issues with Kourtney. Can't wait to see how it all plays out on the show!