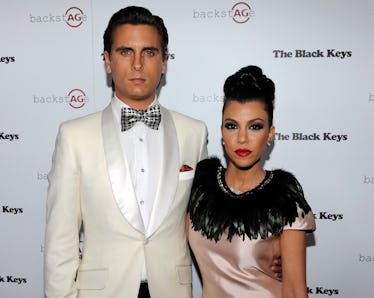 Here's Where Kourtney Kardashian & Scott Disick's Relationship Actually Stands
Ethan Miller/Getty Images Entertainment/Getty Images
Kourtney Kardashian and Scott Disick may have moved on from their nearly 10-year union — he's dating Sofia Richie, she's with Younes Bendjima — but that doesn't mean I have. Am I the only one that remembers the good times? Since their 2015 split, the former couple has weathered their fair share of peaks and valleys, including periods of major drama and others of possible reconciliation. But through the ebb and flow of their relationship, Disick has remained a fixture of the family and Keeping Up With The Kardashians franchise. (He's also getting his own show!) While they seem to have closed the door on the possibility of a reunion for now, I have to know: Are Kourtney Kardashian and Scott Disick still friends or just co-parents?
After Scott's repeated attempts at winning Kourt back failed, he seemed to self-destruct. The father of three returned to his club antics and cycled through a number of bizarre flings (TBT to the Bella Thorne phase). Unsurprisingly, the behavior didn't sit well with Kardashian. And while she busied herself with a new love interest, Bendjima, it only caused a further rift between them. Disick's fit over the budding relationship played out on the most recent season of KUWTK, but reports of his relationship with Richie suggested the 35-year-old reality star had finally moved on. Time for peace in Calabasas?
However, Disick's burgeoning relationship with the 19-year-old model, and their obvious age gap, reportedly caused further tension. In the early stages of the relationship, Kardashian was reportedly concerned over Richie's age, and her ties to the family. Let's not forget Richie was childhood pals with Kylie and Kendall! "The initial reaction from Kourtney when she found out that Scott was dating Sofia was not positive," a source told People in February. But as things grew increasingly serious between the pair, Kardashian reportedly had a change of heart, and now trusts Richie with the kids.
The insider continued:
[She] didn't think it would last and she never thought Sofia was going to meet her kids. But now, Sofia spends a lot of time at Scott's, so Kourtney allowed her to meet the kids. She has met them a few times. For a while, the kids didn't see their dad on a regular basis. It was very sad, because they missed him. Now, Scott sees his kids every week.
While things progressed between Disick and Richie, he seemed to hold on to some lingering jealousy and hurt feelings with Kardashian. But by May 2018, sources revealed the exes had "never been better." Really? According to People, their mended friendship is weirdly due to their significant others. "He was hung up on Kourtney forever and really wanted to make that relationship work, but he's finally come to terms with the fact that she's moved on," the source dished. "They're both in happy relationships. They get on so well and co-parent so successfully."
While we haven't seen definitive proof of a rekindled friendship (i.e. a refollow on Instagram or double date), it seems as though all is calm. Disick has reportedly abandoned his hard partying ways, which was a longtime source of contention between the exes.
He's not partying like he was just a year ago and seems to be in a healthier place mentally and physically. Everyone in the family is really happy with how he's doing lately.
Mason, Penelope, and Reign's parents have taken turns vacationing with their brood. Kourtney Instagrammed her way through an Italian holiday with Bendjima, while Disick celebrated his birthday in St. Barts alongside Richie and the kids. While I refuse to give up hope on a future reconciliation, Scott and Kourtney seem pretty happy separately. I'll live with a platonic friendship... for now.