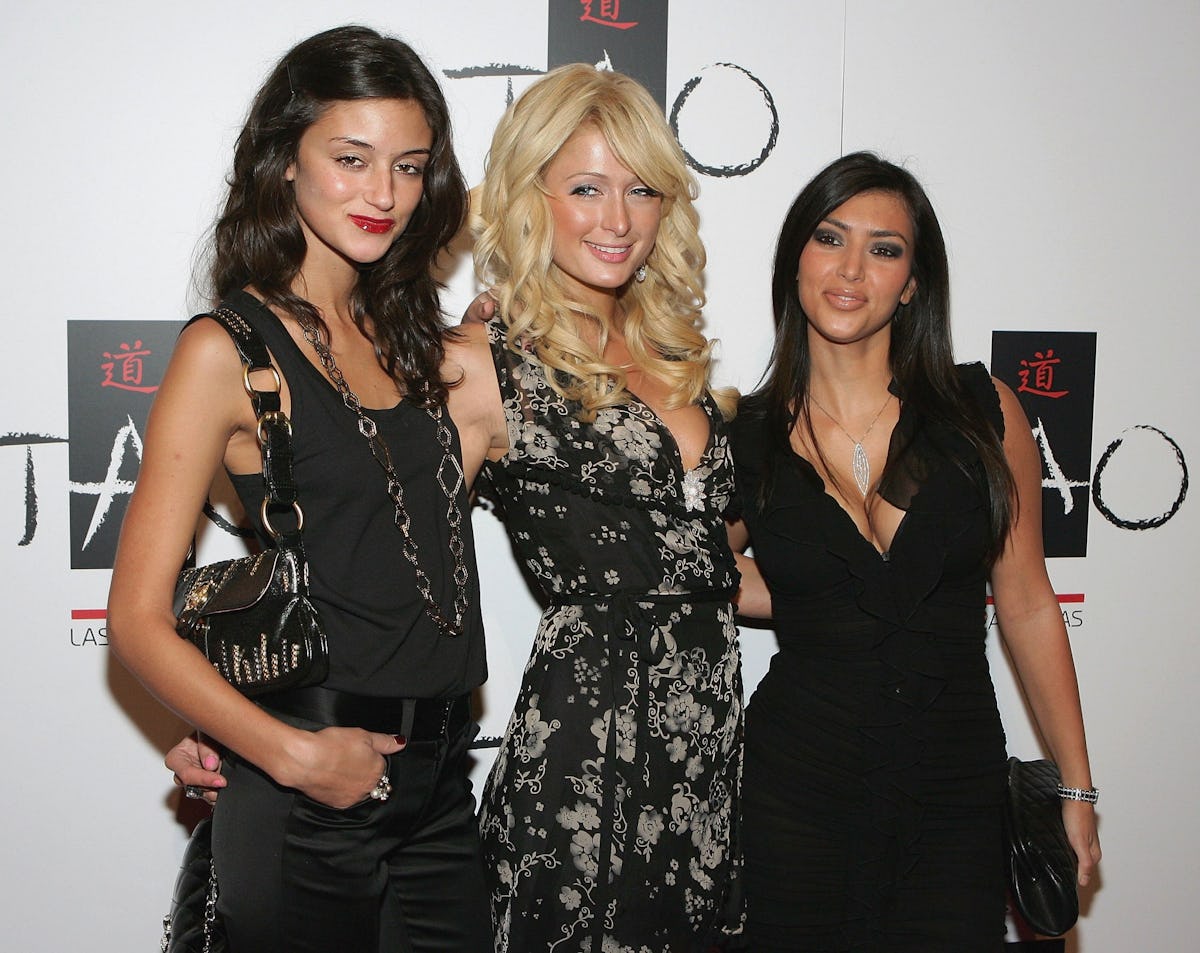 Kim Kardashian Might Be Going To Paris Hilton's Wedding, So Welcome Back, 2006
Ethan Miller/Getty Images Entertainment/Getty Images
It might be hard to believe, but there was a time when reality TV fans didn't keep up with the Kardashians. Before all of the pregnancy rumors, modeling contracts, breakups, and marriages, there was The Simple Life, and it was "hot." Now that the hotel heiress behind the show is getting married, people are beginning to wonder: "Will Kim Kardashian go to Paris Hilton's wedding?"
For those who have been living under a rock, Hilton got a rock of her own from fiancé Chris Zylka at the beginning of the new year. The 32-year-old proposed to the blonde starlet with a $2 million pear-shaped ring that looks practically life-sized, and it was quite a moment. He got down on one knee in Aspen while the two were skiing and popped the question. Naturally, Hilton needed to document said moment (and ring) on social media.
"I said Yas! So happy & excited to be engaged to the love of my life," Hilton wrote on Instagram. "My best friend & soulmate. Perfect for me in every way. So dedicated, loyal, loving & kindhearted. I feel like the luckiest girl in the world! You are my dream come true! Thank you for showing me that fairytales do exist."
So now that the mushy stuff is out of the way, let's cut to the chase: Will the BFFs-turned-frenemies bury the hatchet? It looks like it might be a possibility. Hilton and Zylka were out and about on Saturday, Jan. 6 at Craig's restaurant in West Hollywood when TMZ asked the 36-year-old if Kardashian will be invited to her wedding. "Of course," she replied.
Let the 2000's nostalgia commence. That's hot.
Because Hilton and Kardashian have history. In the mid-2000s, the pair were the best of friends — wild nights, fashion shows, and paparazzi pictures were the norm for these ladies, and Hilton kind of pushed Kardashian into the spotlight. So with that type of hype comes a little bit of jealousy, which allegedly drove them their separate ways. Supposedly, bad blood erupted between the two, and their friendship ceased roughly in 2009.
Fortunately, there has been a glimmer of hope for a reunion in recent years. In 2014, the pair briefly reunited during a trip to Ibiza, and Kardashian took to Instagram to document their getaway. "Reminiscing about the 1st time we went to Ibiza in 2006! @parishilton it was so good to see you & catch up!! Loves it lol," Kardashian wrote.
Likewise, Hilton has been quick to show her social media followers that she and Kardashian are still keeping up with one another. Last year, the two took a holiday photo on Dec. 27, 2016. Hilton captioned it for Instagram by saying, "Lovely evening celebrating the holidays with @KimKardashian."
So does this mean there's a chance? Only time will tell if the reality TV duo will become BFFs once again. But there certainly looks like there is hope for those who do not want to let go of the early 2000's.
In the meantime, Kardashian certainly has a lot on her plate.
She's expecting her third child with Kanye West via a surrogate, and her baby sis Khloé is expecting a tiny tot of her own. And of course, there is major drama surrounding Kylie Jenner and her alleged pregnancy. A trip down Memory Lane is probably something Kardashian would love right about now — it'd be a good excuse to escape the rumors.
Hilton has plans of her own now that she's about to walk down the aisle. She's hired a bodyguard to watch over that huge engagement ring (I'd personally be nervous to look at it let alone wear it), and she surely has many details to plan between now and the time she says, "I do." Once the details are in place, reality TV fans everywhere will certainly make the Hilton-Kardash reunion known.