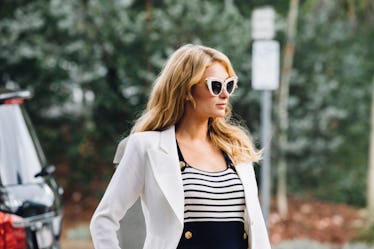 Paris Hilton Hired A Bodyguard To Protect Her Engagement Ring & Now She's My Hero
Cole Bennetts/Getty Images Entertainment/Getty Images
I'm not a celebrity. I don't know what it's like to own multimillion-dollar items. Honestly, the fact that Paris Hilton's engagement ring has its own bodyguard makes a lot of sense to me. For one, it's bigger than any human I've ever met. Secondly, it's more expensive than my own engagement ring, plus my mom's engagement ring, plus her mom's engagement ring, and probably plus all the other engagement rings ever gifted to anyone in my entire ancestral lineage.
After Hilton's boyfriend, Chris Zylka, popped the question over New Year's weekend, all eyes have been on her 20-carat stunner. In fact, E! News officially confirmed she seriously hired a bodyguard to protect the bauble at all times. Considering her friend Kim Kardashian's multimillion-dollar ring was stolen during her Paris robbery, it makes total sense Hilton might go to extremes to protect herself and her property.
Hilton announced her engagement with an adorable series of photos on her Instagram account, and the ring is front and center. She captioned the pictures,
I said Yas! So happy & excited to be engaged to the love of my life. My best friend & soulmate. Perfect for me in every way. So dedicated, loyal, loving & kindhearted. I feel like the luckiest girl in the world! You are my dream come true! Thank you for showing me that fairytales do exist.
A friend also videotaped Zylka getting down on one knee, and my favorite part is at the very end.
Hilton rips open the ring box and whispers, "Holy f*ck."
Same, Paris. Same.
According to jewelry expert Michael Greene, Hilton's ring is worth right around $2 million. He told E! News,
Paris just called and told me how much she appreciates it. She says it's her dream diamond. She said she never thought Chris would come up with something so perfect. She's so happy and excited.
Greene also talked about how lovely it was to work with Zylka on picking out the diamond. He said,
I had never met Chris before, but he reached out to me. He came to see me in New York and said he had been thinking about this and wanting to do it. He wanted the ring to be perfect, exactly what she wanted. He had been asking around the family for tips and ideas.
Ultimately, Zylka committed to a pear shape because it was similar to Hilton's mother's ring. Just after the engagement, Greene told People,
Paris at one point in time told Chris she really loved her mother's pear-shaped diamond, and when Chris came to me that was his request. The pear-shaped really jumped out for him and ultimately for her. He did some fishing, but in the end, it was all him. He's a smart guy, and hangs out a lot with the family, and I think she realized how much she liked her mom's ring.
According to reports, both Zylka and Hilton "started shaking" the first time they held the ring.
Greene said, "When he [Zylka] came to pick it up and opened up the box, he literally started shaking," and Hilton told People,
The ring was so gorgeous and sparkling. I was shaking as I put it on. It is the most beautiful ring that I have ever seen!
She added,
I am so excited to be engaged to the love of my life and my best friend. I have never felt so happy, safe and loved. He is perfect for me in every way and showed me that fairytales really do exist!
Congratulations to Hilton, Zylka, and the ring's bodyguard for his new gig!
Check out the entire Gen Why series and other videos on Facebook and the Bustle app across Apple TV, Roku, and Amazon Fire TV.