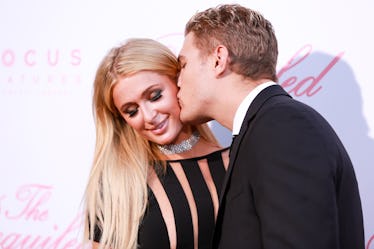 The Story Behind Paris Hilton & Chris Zylka's Relationship Is So Romantic
Rich Fury/Getty Images Entertainment/Getty Images
Good news for all of you who are still watching The Simple Life reruns: Our girl Paris Hilton is engaged! What a time to be alive. So, who's the lucky guy? That would be Leftovers star Chris Zylka, and you know what? I'm kind of loving this pairing. While many people are quick to roll their eyes over anything Paris Hilton-related, this is one thing that I think people should pay attention to, and that's because they actually seem happy and in love – so can we all just be a little supportive? The story behind Paris Hilton and Chris Zylka's relationship is actually really romantic, so I think we should all give them a fighting chance.
According to People magazine, Hilton and Zylka met eight years ago, but didn't start dating until two years back. So, right off the bat, we see that they clearly have an established friendship before diving into anything serious. That's hot.
(I'm sorry, I really am, I just had to do that at least once.)
So let's take a look into why Paris Hilton and Chris Zylka's relationship might actually be the #couplegoals we all strive to have. I know you may be skeptical, but keep reading on, and maybe I can make a believer out of you.
Chris Zylka is very vocal about his love for Paris Hilton.
We see how celebrities can gush over their relationships in a way that's over-the-top and showy, almost like they're doing it for the audience instead of actually feeling it. But when Zylka speaks about Hilton, you can tell it's genuine. In an interview with ET Online in April 2017, Zylka says that Paris Hilton is his "soulmate" and that dating her has made him "the happiest he's ever been." He said,
She's just perfect, wonderful, every single day ... It's nice when you wake up in the morning and every single day gets better with an individual. Finding your actual other half. There's not anything that we don't have in common.
Awwww. This is actually really sweet. Paris, you found yourself a good one!
He has her name tattooed on his arm for a significant reason.
OK, rule number one with dating is that you never get your significant other's name tattooed anywhere on your body. Rule number two is you never get your significant other's name tattooed anywhere on your body.
Zylka didn't exactly listen to this advice, but you know what, let's give him a pass. In July 2017, Paris took to Instagram to gush over Zylka's new tattoo, which was actually kind of cute:
So before you start judging, at least take a moment to appreciate the reason behind the tattoo and the font. Hilton's caption read:
Such a lucky girl! 😻 My love surprised me & got my name tattooed in #Disney font. And said cause I'm his most magical place on Earth & he finally found his fairytale princess.
I'm going to say it one more time: That's hot.
I'm not even ashamed.
He proposed with the mother of all engagement rings.
We know that size doesn't matter when it comes to engagement rings, but Chris Zylka clearly does not live by that sentiment. The proposal video was captured on film and shared on Paris Hilton's Instagram:
Super cute! Until you see the ring. Then you're basically blind.
The ring reportedly costs $2 million, and if that doesn't say "I love you," I don't know what does (clearly not a nice dinner and some bodega flowers like the rest of us get, then).
In an interview with People magazine, Hilton couldn't contain her happiness over her engagement, saying,
I am so excited to be engaged to the love of my life and my best friend ... I have never felt so happy, safe and loved. He is perfect for me in every way and showed me that fairytales really do exist! Ever since our first date I knew there was something special about him. I have never in my life met a man so loyal, dedicated, and loving. I knew right from the start that I wanted to be with him forever.
The pair are essentially inseparable.
Back in November of 2017, Hilton went on the Kyle and Jackie O Show to talk about Zylka, revealing that they basically haven't spent more than a few hours apart since dating. She said,
We've actually have not spent more than three hours apart ... We're together every second. He's so supportive and amazing.
Someone who loves and cherishes you enough to spend almost every waking moment with you – and loving it? Paris, I think you've found yourself a keeper.