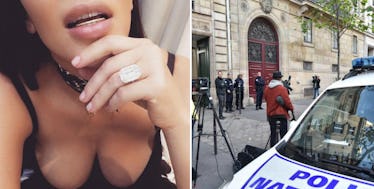 Cops Reveal What They Think Happened To Kim K's Jewelry After Paris Robbery
Instagram/REX/Shutterstock
We're finally getting answers about who robbed Kim Kardashian in her Paris hotel room, and what exactly happened to her jewels.
They reportedly told Kim Kardashian's legal team diamonds that large are shipped to Antwerp's diamond district in Belgium.
Therefore, the chances of Kim reuniting with her precious jewels are slim to none.
The 36-year-old reality star was robbed of 13 items, losing up to $5.6 million in value.
It's unfortunate her jewelry can't be retrieved, but Kim Kardashian will get some closure because 17 of her suspected robbers were arrested.
According to CNN, the three-month investigation might be coming to a close because of DNA found at the scene of the crime.
Below, you can see a photo of the people suspected to be behind the infamous robbery.
Since the terrifying incident, Kim Kardashian took a break from the spotlight and stayed off social media.
However, the mother of two returned to Instagram, Twitter and Snapchat at the start of the New Year.
The first photo she added was a sweet picture of her with Kanye West, North and Saint.
Of course, the world was thrilled to see the reality star back in front of the camera and doing her best to resume a normal life.
The Paris robbery will actually be addressed in the new season of "Keeping Up With The Kardashians," according to the show's latest trailer.
In the short clip above, you can see Kim Kardashian opening up about the traumatic experience to her sisters Khloé and Kourtney.
While retelling the story (with tears in her eyes,) Kim said,
They're going to shoot me in the back… There's no way out. It makes me so upset to think about it.
The new season will not resume until March, so unfortunately we'll have to wait until then to hear the rest of Kim Kardashian's story.
Citations: Kim Kardashian Robbery Missing Jewelry (TMZ)