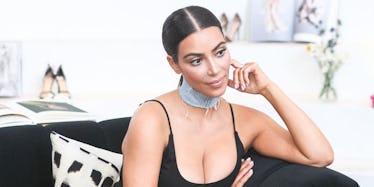 Here Are The Suspects Arrested In The Kim Kardashian Paris Robbery
REX/Shutterstock
Law enforcement investigating the traumatic robbery Kim Kardashian experienced in Paris last year may now be one step closer to nailing the perps responsible for the crime.
We first reported a total of 16 people, ages 23-73, were arrested in connection with the robbery. The total count of suspects arrested has since been updated to 17.
According to CNN, DNA found at the scene of the crime in Paris led to the arrests made after a three-month investigation.
On December 12, an update from law enforcement hinted that the ongoing investigation was "nowhere near" solved.
A judicial police source in Paris spoke to Us Weekly regarding the status of the investigation, revealing,
You could call it strange, but actually, it can take many months, even years to solve a heist mystery. There's a lot that goes on beyond the initial evidence collecting… It can take a long time.
Luckily for Kim Kardashian, a "long time" might have been a bit of an overstatement, as you can see.
Out of the 16 suspects arrested for the October 3 robbery, photos have surfaced revealing three of them during a perp walk on Monday.
French police were able to use tapped phones and DNA to narrow down the suspects involved. Three of the suspects arrested are women with the rest being men.
Here are the recent photos floating around of three suspects arrested in connection with the robbery. A total of 17 suspects were nabbed by French police.
Kim Kardashian had been in her room at the No Address Hotel in Paris when a group of masked men barged in, tied her up and robbed the 36-year-old star at gunpoint.
The assailants made off with a reported $10 million worth of jewelry. One of the pieces of jewelry was a diamond ring worth an estimated $4.5 million.
In addition to the pricey ring, a necklace was also stolen from Kardashian. However, the necklace was later found near the luxury hotel after it was seemingly dropped by one of the robbers.
Investigators were able to use DNA found on the necklace to make arrests.
On October 26 of last year, the hotel concierge on duty during the robbery spoke to reporters saying the robbers weren't originally in search of jewelry. Instead, they demanded cash.
While there is still plenty of work ahead to crack this case once and for all, it's good to know authorities are closer than ever to serving justice.
Take a deep breath, Kanye. Every little thing is going to be all right.
Citations: Kim Kardashian Robbery Suspects Revealed (TMZ), Kim Kardashian West robbery suspects picked up by French police (CNN)