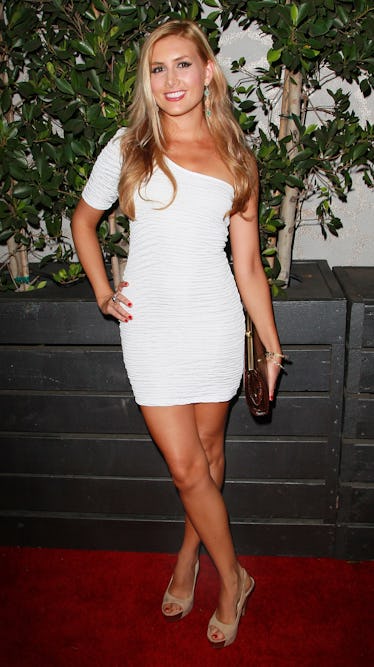 This 'The Hills' Star You May Have Forgotten About Could Make An Appearance On The Reboot
David Livingston/Getty Images Entertainment/Getty Images
Now that The Hills is getting new life thanks to its upcoming reboot The Hills: New Beginnings, distant memories from the iconic reality series are popping up in my brain more than ever. For example, Justin Bobby's cowboy boot beachwear, Spencer and Heidi's young neighbor pal Enzo, People's Revolution, and Jen Bunney. Jen wasn't billed as a main cast member, but she did make drama waves throughout her stint on the series. So, will Jen Bunney be on The Hills: New Beginnings? She's still very connected to certain members of the original show.
You may recall Bunney was Lauren's hometown pal from the Laguna Beach days. She notoriously "hooked up" with Brody Jenner on the show, even though Lauren expressed interest in him which... did not end well. The girl code-breaking action (whether real or not) set off a supposed rift between the longtime friends on the series and opened up the door for continuous conflict. Lauren and Jen do not appear to be buddies these days, although Bunney still has very strong ties to Heidi and Spencer. In fact, she's the godmother to their son Gunner, who was born last October. Heidi and Spencer are signed on to appear on The Hills: New Beginnings. If they're close with Jen, maybe that means she'll bless fans with a cameo? Fingers crossed!
Since her days on The Hills, Bunney has moved on to non-reality TV ventures in public health. She impressively earned her Masters on the subject from UC Berkeley after graduating from USC.
Heidi and Spencer both attended Jen's August 2014 Palos Verdes nuptials to hubby Taylor Dunphy. Heidi even gushed about her BFF bride following the event, telling Us Weekly, "Jen has been my best friend for years, we have been through so much together, she deserves her dream wedding and bliss, and she got it last night."
"Jen Bunney's relationship means the world to me, I mean she's the person you want for good advice," Heidi also explained on E's 2013 special After Shock: Heidi & Spencer, which Jen appeared in.
The Hills: New Beginnings is set to premiere in 2019 and will feature OG members of the cast such as Audrina Patridge, Spencer Pratt, Heidi Montag, Stephanie Pratt, Frankie Delgado, Jason Whaler, and Justin Bobby. Whitney Port will also be joining the group for the revival and Brody Jenner and his wife Kaitlynn are apparently in negotiations to participate in the project. Unfortunately, Lauren Conrad will not be returning to her reality TV stomping grounds — she's reportedly focusing on her clothing line and family at the moment. Laguna Beach alum Kristin Cavallari, who stepped in for Conrad after she departed The Hills in 2010, hasn't signed on either. The Nashville-based mother of three has her own docuseries, Very Cavallari, which is currently airing on E!.
"The show is a very poor representation of people's character all around. As the series progressed and it became more popular, the portrayals stretched reality more and more," Jen Bunney told Complex back in 2015 when discussing the series' depiction of Heidi and Spencer.
Now that the Montag-Pratts are all in on New Beginnings, perhaps their friend Jen will eventually come around.