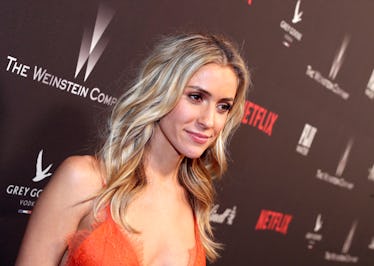 Here Are The Chances We'll See Kristin Cavallari On 'The Hills: New Beginnings'
Jonathan Leibson/Getty Images Entertainment/Getty Images
The Hills: New Beginnings is the reality TV reboot that none of us expected we deserved, but ready or not, here it comes. MTV announced that a majority of The Hills' original cast will reunite on a new series in 2019, but those starlets who aren't returning are definitely notable. Original leading lady Lauren Conrad has definitely moved on from The Hills, but what about the girl who replaced her? Fans are wondering about Kristin Cavallari's role on the upcoming series, so will Kristin be on The Hills: New Beginnings?
Before millennial girls graduated to watching broadcast and streaming TV and constantly learning about actor replacements and re-castings, their first TV upheaval was when Lauren left The Hills in Season 5 and her old rival Kristin replaced her. The high school classmates starred on Laguna Beach: The Real Orange County together, so when Lauren felt it was time to gracefully exit from its spinoff series, it was only right that the gang's former queen bee took over as the Hills narrator. After stirring trouble during the last year of The Hills, Kristin married now-retired NFL player Jay Cutler in 2013 and has three young children with him.
Although former co-stars Spencer Pratt, Heidi Montag, Audrina Patridge, Whitney Port, and more have confirmed their involvement with the new series, we won't see Kristin playing catch-up with the group on New Beginnings. People reports that because of her new E! series, Very Cavallari, she cannot commit to a deal with MTV. A source told the magazine, "She can't do the show because she has a contract with E!. But she's still close with Heidi and Spencer and is excited for them."
Coincidentally, the series following Kristin's life as she runs her household and manages her brand, Uncommon James, was just renewed for a second season. She may have gotten her start by whispering at a club about the latest gossip on The Hills, but Kristin's grown-up endeavors clearly don't need any reminders of antics from her 20s to succeed.
Although the timing of the revival didn't quite work for Kristin to participate, she was definitely interested in the idea before Very Cavallari came along. Earlier this summer, she told People:
I was about to sign a deal to do a Hills reunion with E!, and then Heidi and Spencer signed a deal with MTV. And, they're such a vital part of The Hills that we couldn't do it without them. So, it's been kind of put on hold, but I would love to do it.
Welp, it looks like no one told Kristin that the idea of a reunion certainly wasn't put on hold.
While Kristin has other TV commitments to maintain, Lauren has chosen not to appear on The Hills reboot because of her current low-key lifestyle. She has an infant son, Liam, and runs a clothing line for Kohl's. When news of the reboot broke, another source told People about Lauren, "She's in a different place in her life. But she wants everyone to enjoy themselves. She wishes everyone the best."
OK, I get it, but what is The Hills without Kristin's sassiness or Lauren's wisdom?
Looks like I'll have to start watching Very Cavallari for my fill of Kristin's quippy one-liners. The Hills: New Beginnings airs on MTV in 2019.