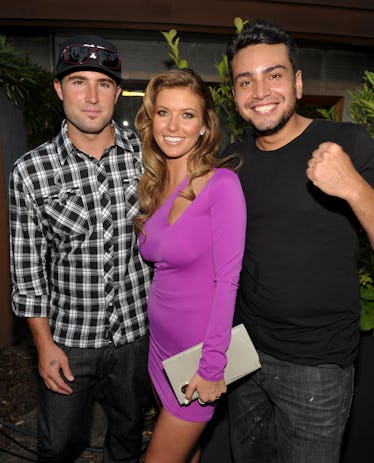 Your Favorite OG Bro From 'The Hills' Is Officially In The Talks For The Revival
John Shearer/Getty Images Entertainment/Getty Images
Time to dig up that statement headband you almost threw away in the mid-2000s, because The Hills is officially returning to TV. The iconic reality spinoff of Laguna Beach followed Lauren "LC" Conrad's journey to Los Angeles as she balanced fashion school, a glamorous internship, and the drama of friend and relationships that come with being a big city twentysomething. Lauren won't be joining the reboot, but a handful of former cast members are already signed on. But will Brody Jenner be on The Hills: New Beginnings? Fans of the original are wondering if the breakout bro will come back to his reality TV beginnings.
Good news, Brody fans. According to The Hollywood Reporter, Jenner is indeed "in talks" for the upcoming Hills revival. Brody originally appeared on the show from 2007 until its finale in 2010, and became an on-again-off-again love interest for Lauren Conrad. In 2018, Brody (who's previously been linked to celebs like Avril Lavigne and Nicole Richie) calls himself a married man — the reality alum recently tied the knot to longtime love Kaitlynn Carter. People reports that Kaitlynn is also in negotiations to be featured alongside her new hubby on The Hills: New Beginnings. Ah, the cast is all grown up! Or are they...? Viewers of the update will have to wait to see.
MTV announced The Hills' comeback on Sunday during the 2018 VMAs. Spencer Pratt, Heidi Montag, Audrina Patridge, Stephanie Pratt, Jason Whaler, Frankie Delgado, and Justin Bobby were all on hand at the awards show in conjunction with the big news.
While Lauren and Kristen Cavallari will not be a part of New Beginnings, Whitney Port is set to make her own television comeback. Port, Lauren's former fellow Teen Vogue intern, landed her own spinoff The City following her Hills success. She's been married to producer hubby Tim Rosenman since 2015 and they welcomed a baby boy, Sonny, last summer. Port has continued to work in the fashion world since her days on The Hills — she released her line "Whitney Eve" in 2008 and put out a book, "True Whit: Designing a Life of Style, Beauty, and Fun," in 2011.
"Throw back to my first VMAs look. Good thing I get to go back and make up for my insane looks on #thehills on the NEW HILLS REBOOT!!! Maybe they'll let me out of the fashion closet this time," Whitney wrote on Instagram Tuesday.
The Hills: New Beginnings won't hit small screens until next year, but MTV already released a dramatic teaser for the show. The clip features a slowed-down acoustic version of the original's iconic theme song, "Unwritten" by Natasha Bedingfield. There's no actual footage from the series, although there are sweeping shots of LA landmarks like the Hollywood sign and the Santa Monica pier. What, no Les Deux?
"It's like we're all growing up. It's weird," Stephanie Pratt's voiceover is heard remarking at the end of the video. At this point, The Hills cast members are all tackling the realities and tribulations of adulthood. Spencer and Heidi are still going strong and are parents to 10-month-old son Gunner. Audrina is now mom to daughter Kirra. Even though the gang are in completely different places in their lives these days, it will be interesting to see what goes down when many of them are reuinited.