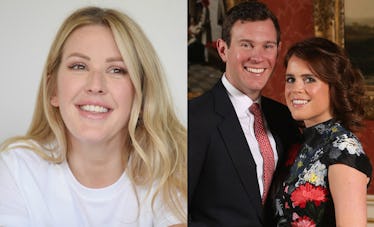 Here Are The Chances Ellie Goulding Will Be At Princess Eugenie's Wedding
Francois Durand/Jonathan Brady/Getty Images
Princess Eugenie and Jack Brooksbank have a lot of famous friends. The royal pair is getting married on Friday, Oct. 12, in St. George's Chapel at Windsor Castle, just like cousins Harry and Meghan did back in May, and the guest list for 2018's second royal wedding is just as star-studded as Harry and Meghan's and Will and Kate's was. Elton John is going to be there, of course, because he's a royal wedding staple. Victoria and David Beckham and Amal and George Clooney will likely be there as well, but will Ellie Goulding be at Princess Eugenie's wedding? The British singer and her fiancé, Casper Jopling, have been on double dates with Eugenie and Jack in the past, and Goulding is reportedly one of Princess Eugenie's closest friends, so it's all but guaranteed she'll be in attendance on the royal's big day.
Princess Eugenie, Jack, Goulding, and Goulding's fiancé, Caspar Jopling, are all good buds. The couples were seen on a double date at a basketball game in October 2017 looking like they were having a grand old time. It's likely that Princess Eugenie is the one who introduced Goulding and Jopling to each other in the first place, as well. (Given that she also introduced Prince Harry to now ex-girlfriend Cressida Bonas in 2012, Princess Eugenie seems to be a bit of a matchmaker in her group of friends.) Jopling is the nephew of famous art dealer Jay Jopling. Jay Jopling was an investor in the online art platform Paddle8, which is where Princess Eugenie used to work. And there you have it: Goulding and Jopling's possible meet-cute.
If you're on a double date status with someone, they'll most likely be invited to your wedding. So fans of the royal family can probably expect to see Goulding and Jopling at Windsor Castle on Oct. 12.
Jopling and Goulding announced their engagement in August 2018, so we might just be seeing the newlyweds Eugenie and Jack at the Goulding/Jopling wedding as well.
Other possible famous guests for Eugenie and Jack's wedding are Cressida Bonas and Chelsy Davy — Prince Harry's ex-girlfriends who are really close with Princesses Eugenie and Beatrice.
Davy and Bonas both strolled up to Harry and Meghan's wedding looking unbothered AF.
Un. Both. Ered.
They'll likely look just as unbothered when they run into Prince Harry again at Eugenie and Jack's wedding on Friday. Karlie Kloss will probably be in attendance as well, and Cara Delevingne and James Blunt are also rumored to have been invited, given their respective friendships with Princess Eugenie.
Ellie Goulding and Caspar Jopling won't be the only famous couple there. The Beckhams are a royal wedding staple, as are Elton John and his husband, David Furnish. George and Amal Clooney will likely be at Windsor Castle on Oct. 12, just like they were on hand for Harry and Meghan's wedding (never forget Amal's iconic mustard yellow look). But this time around, the Clooneys will be attending as Jack's boss.
Yup, Jack Brooksbank works for George Clooney's tequila brand.
Clooney created the Casamigos Tequila brand that Jack has worked as the U.K. ambassador since 2013, so the Clooneys' appearance at this royal wedding will be that whole boss/employer dynamic. What a time. Between Elton John, Ellie Goulding, British singer/songwriter Robbie Williams (whose daughter is in Princess Eugenie's bridal party), and James Blunt's possible appearances, this wedding pretty much doesn't need any musical entertainment at all. The guests got it covered.