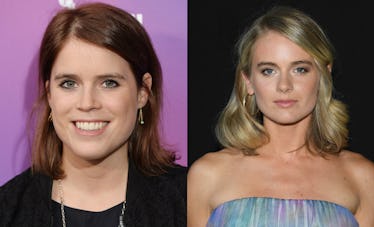 Here Are The Chances Prince Harry's Ex Cressida Bonas Will Be At Princess Eugenie's Wedding
Jeff Spicer/Pascal Le Segretain/Getty Images
Princess Eugenie and Jack Brooksbank are giving us the second royal wedding at St. George's Chapel of 2018 on Oct. 12. The couple's guest list will have a lot of similarities to Prince Harry and Meghan Markle's (duh, they're family), but there are two guests in particular that might not be the most obvious invites to some. Will Cressida Bonas be at Princess Eugenie's wedding? What about Chelsy Davy? Those are Prince Harry's ex-girlfriends, in case you didn't know.
Bonas and Davy were both invited to and attended the Duke and Duchess of Sussex's wedding on May 19, 2018, proving once and for all that exes really can be cool with each other. Chelsy and Harry dated on and off for about seven years and Cressida and Harry dated after that for a few years, but Cressida and Eugenie are also close friends, so it should come as no surprise if/when she strolls up to Windsor Castle for the second time this year on Saturday. After all, Eugenie is the person who introduced Cressida and Harry to each other.
Yup, Eugenie played matchmaker for her royal cousin in 2012. Cressida and Harry ended up dating for two years before calling it quits, but one thing that didn't quit was Eugenie and Cressida's friendship.
WPA Pool/Getty Images Entertainment/Getty Images
Jeff Spicer/Getty Images Entertainment/Getty Images
It was speculated that Bonas could be part of Eugenie's bridal party, but royal weddings typically don't incorporate a bridal party similar to those in the U.S. Maids of honor aren't typical in a royal wedding, nor are adult bridesmaids, according to Town & Country. But Kate Middleton's sister, Pippa, acted as her maid of honor when she married Prince William, so it's not entirely unheard of. It was confirmed on Oct. 10 that Princess Beatrice, Eugenie's older sister, will be her maid of honor, and Jack Brooksbank's brother, Tom, will be the best man.
The other members of Eugenie and Jack's wedding party are Princess Charlotte, Savannah and Isla Phillips (daughters of Peter and Autumn Phillips, Eugenie, Beatrice, Harry, and William's cousin), Mia Tindall (daughter of Zara and Mike Tindall, more cousins), Maud Windsor (Eugenie's goddaughter), and Theodora Williams (daughter of British singer Robbie Williams and Ayda Field) as the bridesmaids. Prince George and Louis de Givenchy (son of Zoe de Givenchy and Olivier de Givenchy) will be the page boys, and the special attendants will be Lady Louise Mountbatten-Windsor (Prince Edward's daughter, aka another cousin) and her little brother James, Viscount Severn. Sorry to disappoint any Cressida fans out there, but her name didn't make the cut.
That's fine, though, considering most royal weddings only include close family members anyways. One way royals get to include their close friends in these special royal events are by asking them to be the godparents of their children (Prince George, Princess Charlotte, and Prince Louis have around five to six godparents each), so it's totally possible that if/when Eugenie and Jack have children, they'll ask Bonas to be one of the child's godparents.
To sum this all up, Cressida Bonas and Princess Eugenie are best friends. Bonas won't be in the bridal party, but I can't imagine her missing Eugenie's wedding day. So Harry can expect to see at least one of his ex-girlfriends on Oct 12.