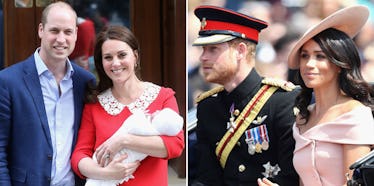 Prince Louis' Godparents Have Finally Been Revealed, But They're Not Harry & Meghan
Chris Jackson/Getty Images
Little Prince Louis of Cambridge's christening has officially arrived. The Duke and Duchess of Cambridge's youngest child is set to be baptized at the Chapel Royal at St. James' palace on Monday, July 9, and just a few hours before the ceremony, Kensington Palace announced who was asked to be the prince's godparents. So, who are Prince Louis' godparents? While some people hoped the Duke and Duchess of Sussex would be asked, but Prince Harry and Meghan Markle didn't make the cut. But that's OK. Since they're his aunt and uncle, they already have a special tie to the little one.
Prince Louis' siblings, Prince George of Cambridge and Princess Charlotte of Cambridge, each have a bunch of godparents. (George has seven, Charlotte has five.) For Prince Louis, William and Kate asked six people to be their baby's godparents, and the group is a mix of family members and close friends, just like his siblings' godparents.
Kensington Palace released the names of Prince Louis' godparents on the royal family's official website on Monday, July 9. The statement read, "The Duke and Duchess of Cambridge have asked the following people to be godparents to Prince Louis, all of whom are friends or family of Their Royal Highnesses." Prince Louis' godparents, according to the statement, are Mr. Nicholas van Cutsem, Mr. Guy Pelly, Mr. Harry Aubrey-Fletcher, Lady Laura Meade, Hannah Gillingham (aka Mrs. Robert Carter), and Miss Lucy Middleton. Photos from the christening haven't been released just yet, but fans can expect to see all of the above names in attendance.
According to Cosmopolitan, Nicholas van Cutsem is one of William's oldest and closest friends. Guy Pelly is a good friend of William and Harry's, and his mother was friends with Princess Diana. Harry Aubrey-Fletcher is a close friend of Will's from their school days, and his wedding was the first Will and Kate attended after they got married themselves in 2011. Lady Laura Meade is a distant cousin of Camilla Parker Bowles, but her relationship to the royal family is more well known for her father's close friendship with Prince Charles and her husband, James Meade's, friendship with Prince William. Hannah Gillingham is one of Kate's closest friends from her school years, and Lucy Middleton is Kate's cousin, who works as a lawyer.
Kensington Palace's announcement also revealed who would be attending the christening, and it's a short list.
The announcement read, "The following guests will today attend the christening of Prince Louis at The Chapel Royal, St James's Palace." The listed names are as follows: Prince William and Kate Middleton (duh), Prince Harry and Meghan Markle, Mr. and Mrs. Michael Middleton (Kate's parents), Pippa Middleton and her husband James Matthews, James Middleton (Kate's brother), and last but not least, Prince Louis' godparents and their respective spouses.
Kensington Palace announced on June 20 that Prince Louis' christening would take place on Monday, July 9. The statement read,
The Duke and Duchess of Cambridge are pleased to announce that the christening of Prince Louis will take place on Monday 9th July at The Chapel Royal, St James's Palace, London. Prince Louis will be christened by The Archbishop of Canterbury, the Most Reverend Justin Welby.
It was never likely that Harry and Meghan would be asked to be his godparents, sadly. British bookmakers Ladbrokes' Jessica Bridge told People that Will and Kate like to reserve the role of their children's godparents for close friends and non-immediate family members. "As with George and Charlotte," Bridge said, "[William and Kate] chose close and trusted friends and aides, rather than immediate family members, and the odds suggest that will be the same with little Prince Louis." Fair enough.
The prince's christening marks the first time fans will see Prince Louis in public since he was born on April 23.
The most recent photos of him are ones Kate took herself when Louis was just three days old.
Kensington Palace posted the above photo to Instagram on May 5 and said,
The Duke and Duchess of Cambridge are very pleased to share two photographs of Princess Charlotte and Prince Louis, taken by The Duchess at Kensington Palace.‬ ‪This image of Prince Louis was taken by The Duchess of Cambridge at Kensington Palace on 26th April.‬ ‪The Duke and Duchess would like to thank members of the public for their kind messages following the birth of Prince Louis, and for Princess Charlotte's third birthday.‬
Prince George and Princess Charlotte are likely to attend their little brother's christening, despite their names being excluded from the guest list, so we won't have to wait much longer to see the first pictures of all three royal siblings together.